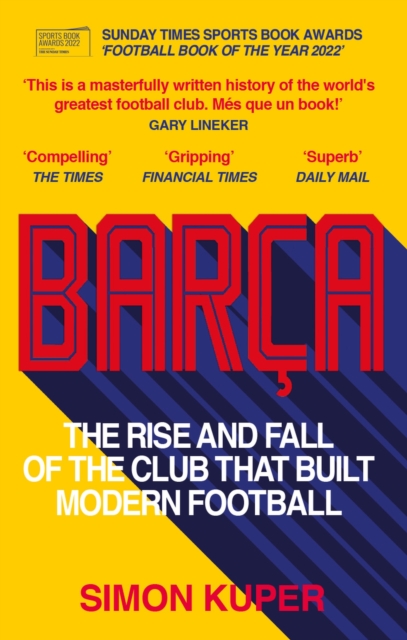 Barca : The rise and fall of the club that built modern football WINNER OF THE FOOTBALL BOOK OF THE YEAR 2022
Paperback / softback
Description
WINNER OF THE FOOTBALL BOOK OF THE YEAR'This is a masterfully written history of the world's greatest football club.
Més que un book!' - GARY LINEKERFrom the bestselling co-author of Soccernomics comes the story of how FC Barcelona became the most successful football club in the world - and how that envied position now hangs in the balance. Barça is not just the world's most popular sports club, it is simply one of the most influential organisations on the planet.
With almost 250 million followers on social media and 4 million visitors to its Camp Nou stadium each year, there's little wonder its motto is 'More than a club'.
But it was not always so. In the past three decades, Barcelona has transformed from regional team to global powerhouse, becoming a model of sporting excellence and a consistent winner of silverware. Simon Kuper unravels exactly how these transformations took place.
He outlines the organisational structure behind the club's business decisions, and details the work of its coaches, medics, data analysts and nutritionists who have revolutionised the sporting world. And, of course, he studies the towering influence of the club's two greatest legends, Johan Cruyff and Lionel Messi. Like many leading global businesses, FC Barcelona closely guards its secrets, granting few outsiders a view behind the scenes.
But, after decades of writing about the sport and the club, Kuper was given unprecedented access to the inner sanctum and to the people who strive daily to keep Barcelona at the top.
Erudite, personal, and capturing all the latest successes and upheavals, his portrait of this incredible institution goes beyond football to understand Barça as a unique social, cultural, and political phenomenon. "I began my research thinking I was going to be explaining Barca's rise to greatness, and I have, but I've also ended up charting the decline and fall."
Information
Format:Paperback / softback
Pages:384 pages
Publisher:Short Books Ltd
Publication Date:23/06/2022
Category:
ISBN:9781780725543
Information
Format:Paperback / softback
Pages:384 pages
Publisher:Short Books Ltd
Publication Date:23/06/2022
Category:
ISBN:9781780725543