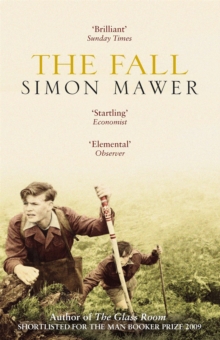 Description
Rob and Jamie are great friends from childhood. They have grown up together and become top climbers, but have since become estranged.
Rob is nevertheless amazed and grief-stricken when he hears of Jamie's death after a fall on a relatively easy Welsh rockface.
The past, though, hides the secret clues behind the tragedy.
Layer by layer Simon Mawer peels back what happened, going not only into the friends' childhoods but that of their parents - who were also intimate. And there is no escaping that past - vividly imagined scenes in the London of the Blitz reveal how through two generations Rob and Jamie and their respective parents have been addicted - to desire and the heady dangers of climbing.
Brilliantly structured as we move from past to present and back again, this novel will make Simon Mawer's literary reputation.
Information
Format: Paperback
Pages: 448 pages
Publisher: Little, Brown Book Group
Publication Date: 01/04/2004
ISBN: 9780349116525
Free Home Delivery
on all orders
Pick up orders
from local bookshops
Reviews
Showing 1 - 2 of 2 reviews.
Review by Eyejaybee
16/06/2015
Why isn't Simon Mawer better known?In the last twelve months I must have read about 160 books, including three by Mawer, each of which would easily qualify in the top ten among that selection. First there was "The Glass Room", quite hypnotic in its recounting of the Second World War through the vehicle of a fantastic house in Czechoslovakia. The there was "The Girl Who Fell From the Sky", a spellbinding tale about a young English woman who was parachuted behind the German lines in France to help the resistance. Shades of William Boyd's "Restless" and Sebastian Faulks's Charlotte Gray,but probably even better written than either of them.With The Fall he has ploughed a very different furrow, but with equally entrancing effect. The book opens with the description of a lone middle-aged mountaineer attempting to cross a forbidding overhanging outcrop of rock, and then plummeting to his death. The climber is James "Jamies" Matthewson, a celebrated mountaineer and son of another, Guy Matthewson, who had died attempting to conquer Kanchenjunga. Because of his prominent status within climbing circles Jamie's death makes the radio news where it is heard by Rob Dewar, art gallery proprietor and former boyhood friend of Matthewson, then driving through the West Midlands on his way back home to London. Stunned at the sudden death of his former friend, on a whim Rob decides to drive to Jamie's home in North Wales.Mawer then takes us through a series of flashbacks in which we see Rob and Jamie meeting and becoming friendly. We also discover that the two boys' mothers had known each other during the war, and we see contrasting portraits of their two fathers. As the two boys grow through their teens Jamie shows precocious talent as a climber. Rob follows him, but lacks some of the creaticve flair of his friend, though he does fulfil an important role as the voice of reason.The descriptions of the climbing are engaging without being overladen with technicalities. I assume that Mawr himself must be an accomplished climber, but he deftly avoids the trap of letting a personal interest intrude to the extent of alienating the non-specialist reader. His characters are also utterly plausible, and essentially empathetic. This is an adroitly crafted novel with a gripping plot that deserves to be more widely known and read.
Review by m2snick
16/06/2015
I loved his writing about the mountains, the elements and the climbing. Bravo for that. However, In my opinion, his characters needed more emotional flesh. Overall I liked this book. I liked The Glass Room by the same author much better though.