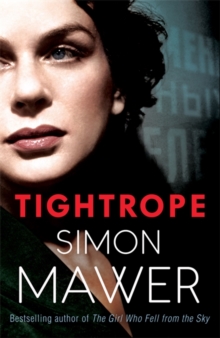 Description
Marian Sutro has survived Ravensbruck and is back in dreary 1950s London trying to pick up the pieces of her pre-war life. Returned to an England she barely knows and a post-war world she doesn't understand Marian searches for something on which to ground the rest of her life.
Family and friends surround her and a young RAF officer attempts to bring her the normalities of love and affection but she is haunted by her experiences and by the guilt of knowing that her contribution to the war effort helped lead to the development of the Atom Bomb.
Where, in the complexities of peacetime, does her loyalty lie?
When a mysterious Russian diplomat emerges from the shadows to draw her into the ambiguities and uncertainties of the Cold War she sees a way to make amends for the past and to renew the excitement of her double life.
Simon Mawer's sense of time and place is perfect: Tightrope is a compelling novel about identity and deception which constantly surprises the reader.
Information
Format: Hardback
Pages: 416 pages
Publisher: Little, Brown Book Group
Publication Date: 04/06/2015
ISBN: 9781408706213
Other Formats
Paperback from £7.85
EPUB from £5.99
Free Home Delivery
on all orders
Pick up orders
from local bookshops
Reviews
Showing 1 - 1 of 1 reviews.
Review by Eyejaybee
27/08/2015
At the end of Simon Mawer's last novel, the spellbinding 'The Girl Who Fell From the Sky', Marian Sutro was seized by the Gestapo, and whisked off to what we were left to presume would be a pretty ghastly fate. Marian had been an English agent in the Special Operations Executive in occupied France, acting as a courier conveying escapees to hidden airfields from which they would be flown to the relative safety of Blighty.'Tightrope' brings us up to date with Marian's story, starting with her repatriation to Britain following the end of the war. While Mawer doesn't dwell unnecessarily on the darker aspects of her incarceration and torture, we learn enough to understand what an extraordinary character Marian is (though this could scarcely have been in doubt for anyone who read the earlier volume). Acclimatisation to 'normality' is understandably difficult, and after such an adrenaline fuelled existence it is difficult for her to decompress. Her parents, who had been adviused two years previously that she was missing, presumed dead, are naturally overjoyed to have her back, though she finds their concern cloying and claustrophobic. She does fare better with her brother, Edward (known as Ned), though he has his own demons to contend with.After a formal debriefing, Marian starts working for the Anglo-French Peace Union, a left of centre organisation committed to campaigning to prevent any future war. There is a marvellous scene in which Marian secures the participation of Bertrand Russell at a debate sponsored by the Peace Union, but then finds herself taking issue with his assessment of the world situation. Having once been in the world of espionage it is difficult wholly to relinquish its grasp, and Marian finds herself being sucked back into a worlds steered by her past. There are beguiling references to historic cases, such as the conviction of Klaus Fuchs, and the defections of Burgess and Maclean.Mawer always writes well. Indeed, having now read a few of his novels I can't understand why he doesn't enjoy a higher profile - 'The Fall', The Glass Room' and 'The Girl Who Fell From the Sky' are all among my favourite books, and all display Mawer's mastery of plotting and characterisation. That was also so nearly true of this book, too. My one qualm is about the ending. Not so much the basics of what actually happened but merely the speed with which it was wrapped up. I wondered if he was fighting a losing battle against an immovable deadline - it all seemed to end unexpectedly quickly.