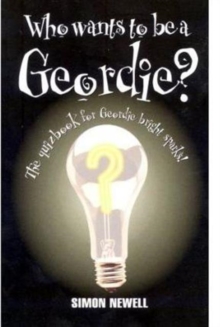 Who Wants to be a Geordie?
Paperback
Description
The debate about who has the right to call themselves a Geordie is still raging.
Is it a name that can be used only by people who hail from Newcastle? Or can anyone born in the vicinity of the River Tyne lay claim to it? Or should it just be reserved for the miners of Northumberland and/or County Durham. Or perhaps the only thing you need to do to legitimately call yourself a Geordie is have a sticker reading 'Gan canny divvent dunsh us' on your car.
The fact that there is no consensus as to what actually constitutes being a Geordie, however, is not going to deter us from asking the question 'Who wants to be a Geordie?'.
This quiz book will use the term in its broadest sense and will offer 500 multiple-choice questions spread over ten differently themed sections that cover all aspects of that north-east corner of England that can loosely be termed Geordie-land. - Where in Newcastle will you find a Marks and Spencer Original Penny Bazaar? - What is a 'spuggy'? - Which children's TV programme of the 1980s was based in Tynemouth? - What is the name of the first football team to play at St James's Park?
Did you find these a doddle or were you wishing you could phone a friend?Either way, the 500 questions contained in Who wants to be a Geordie? will entertain, amuse and perhaps even educate anyone with connections to the North-East.
Information
Format: Paperback
Pages: 160 pages
Publisher: Black and White Publishing
Publication Date: 25/10/2004
Category: Humour
ISBN: 9781845020286
Free Home Delivery
on all orders
Pick up orders
from local bookshops