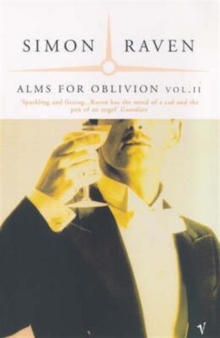 Alms For Oblivion Vol II
Paperback
Description
"Alms for Oblivion" is a series of ten novels, all telling separate stories but at the same time linked together by the characters they have in common: soldiers and dons, men of business, politicians and writers.
They are a scathing chronicle of the upper echelons of postwar English society.
Information
Format: Paperback
Pages: 848 pages
Publisher: Vintage Publishing
Publication Date: 19/11/1998
ISBN: 9780099272892
Free Home Delivery
on all orders
Pick up orders
from local bookshops
Reviews
Showing 1 - 1 of 1 reviews.
Review by thorold
16/06/2015
Omnibus editions are rarely very attractive to look at, but they do encourage you to read the books they contain as a sequence, rather than as individual novels. When you do this with <i>Alms for oblivion</i>, it is striking how different Simon Raven's approach is from that of other well-known romans-fleuves, like Anthony Powell's <i>A dance to the music of time</i>. Raven jumps about freely in time, and there is no linking central figure (like Powell's narrator) to impose an overall narrative structure on the sequence. Each novel is an independent story, making its own point about the randomness of history and the sordidness of human nature, and they slot together in complicated ways to build up a picture of the characters and the world they live in.<i>The Judas boy</i> is set in 1962. Tom Llewellyn is working for the BBC and commissions Fielding Gray, by now reasonably well established as a novelist, to research a documentary about suspected CIA support for EOKA terrorists in Cyprus in the 50s. Naturally enough, there are all sorts of people who would like to prevent any evidence from coming to light, and Fielding allows himself to be manipulated into betraying his friends by an elegant plot, playing on the events of <i>Fielding Gray</i>.<i>Places where they sing</i> shifts the scene to what I think is Raven's most successful setting, Lancaster [i.e. King's] College, Cambridge, in 1967. The dons are mostly self-satisfied hypocrites, the students are revolting, and the scene is set for a spectacular confrontation in which all concerned appear at their worst. Raven is better at mocking the right than the left, probably because he's something of a crusty old reactionary himself, but he has a lot of fun with both sides here.<i>Sound the retreat</i> takes us back to India in 1945. The war is over, the British government has announced that India will become independent, but somehow the authorities have still sent a batch of young men, one of whom is Peter Morrison, from Britain to Bangalore to train as officers for the Indian Army. On the face of it, this is yet another version of the familiar military "coming-of-age" story, complete with ludicrously over the top sex scenes such as only Raven can write. The underlying theme, though, is the betrayal and hypocrisy that results from the conflict between the political aim of decolonisation and the humanitarian aim of maintaining civil order and good governance. Morrison completes his training, is posted to a British regiment in India, and finds himself in a situation where his duty requires him to betray a friend and former fellow officer. In much the same way that <i>Fielding Gray</i> established Fielding as a man who makes himself scarce when his friends need him, Morrison is here shown as the consummate politician who can always persuade himself that he is acting for the best possible reasons. As Detterling says, "he has a lot of shit in his tanks."<i>Come like shadows</i> takes us forward to 1970, with Fielding Gray in Corfu, employed as scriptwriter on a film version of the <i>Odyssey</i> with rather dodgy pretensions to be educational. Naturally, there is scope for a lot of not altogether innocent fun at the expense of the film industry and the well-meaning foundations that finance "cultural" films. The company is plagued by a left-wing actress (think Vanessa Redgrave/Glenda Jackson) who wants to correct Homer's elitism by giving a bigger role to the working classes (but not in her own scenes as Nausicaa, of course), and Fielding decides to seduce her to keep her quiet, leading inevitably to more trouble...