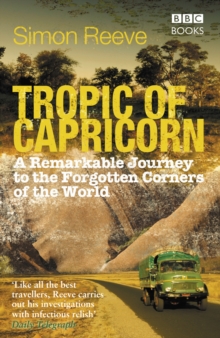 Tropic of Capricorn
Paperback
Description
In "Tropic of Capricorn", best-selling author Simon Reeve embarks on a 23,000-mile trek around the southern-most border of the tropics - a place of both amazing beauty and overwhelming human suffering.
Heading east through Africa, Australia and South America, Simon encounters breathtaking landscapes and truly extraordinary people: from Bushmen of the Kalahari and Namibian prostitutes battling with HIV to gem miners in Madagascar and teenagers in the Brazilian favela once described as the most dangerous place on earth.
It is a collection of daring adventures, strange rituals and exotic wildlife, all linked together by one invisible line.
Like the best travel writing, "Tropic of Capricorn" confronts important issues of our time - our changing environment, poverty, globalisation - by taking us on an unforgettable journey of discovery.
Information
Format: Paperback
Pages: 400 pages
Publisher: Ebury Publishing
Publication Date: 05/02/2009
Category: Memoirs
ISBN: 9781846073861
Free Home Delivery
on all orders
Pick up orders
from local bookshops
Reviews
Showing 1 - 2 of 2 reviews.
Review by skinglist
16/06/2015
I haven't read any of Reeve's other titles - but this book made me want to do so. Other than Australia, where I saw the same monument he did near Exmouth and the Ningaloo Reef, I hadn't been to any of the places he went. It really piqued my curiosity about some places, especially Botswana and the Kalahari. Some of the similarities - the poor treatment of the local population were as telling as the differences - African Savannah, dessert, Andes. A great read for the traveler - arm chair or not
Review by abitmorejerry
16/06/2015
As a keen traveller and avid reader, when this book was given to me as a present I was really looking forward to reading it. It's not much more than a blog really and would have been far better presented in that format although when compared to many great blogs out there it would have only risen to heights of mediocrity. As a BBC publication I had high hopes for the book too.Basically the book is a journal of Reeve's travels along the often devastated but also beautiful and inspiring line around our planet, the Tropic of Capricorn. On a deadline, Reeve and his team travel around the world trying as best as probably anyone can, given their constraints, to stay true to this latitude. The journal highlights the beauty of the lands and the people they encounter but unfortunately the book is laden with the author's values, which to me comes across as the remnants of the Victorian England era - condescending and filled with that limp-wristed arrogance that some British folk desperately/ridiculously try to cling on to in a world that has passed them by.As this 'superior' attitude leeches its way through the journal, it is quite comical at times to come across several grammatical errors (quite un-British really) scattered throughout the book. These seem to be due to a spell-checker automatically correcting spelling mistakes but unfortunately substituting the wrong words - something you'd think a half-decent, even notional editorial review would have picked up. Reeve, quite rightly, is concerned about the devastation being wreaked upon our our planet and many of it's indigenous populations. What is problematic though is as he cruises through, staying for perhaps a day or two, he is very quick to criticise, often with that condescending 'I know much better than you' attitude, wherever he happens to be and whatever he happens to be talking about, but does so with seemingly only a shallow understanding of the complexity of some of the problems he is writing about. I speak from an 'Australian' perspective as it is through this section of the book that it became apparent to me just how little he understands of this remarkable country, its people (all of them) and the incredibly complex and tragic problems it is trying to deal with. Such sweeping generalisations are surely not befitting of an educated/well travelled English gentleman. I only hope he has a better grasp of the situations he writes about in the countries he breezed through in the rest of the book.In truth I do admire his efforts and that of the BBC to be able to undertake such journeys, highlighting problems around the world. Hopefully, their efforts and influence are able to raise enough awareness of these tragedies to make a difference. As an author of considerable influence and with so many excellent resources available to him, it would be nice if something could be offered in the way of solutions as well as such value-laden criticism. Reeve should not forget that Britain itself has been a big contributor to the plight of many unfortunate people and places as he casts judgement on all and sundry.Having said all that, the book itself is still an 'OK and relatively interesting read' and a very worthy reminder that a lot is going wrong around our planet at the moment that really needs some well-considered, but immediate action if we are to save it.In summary, I would recommend it but with the caveat that perhaps the author doesn't have the depth of understanding of some of the situations that he is making judgements about, or has a values system (as we all do) that interferes with those judgements. The subject matter of the book is something that we should all be concerned about and cudos must go to him for his efforts in this area.