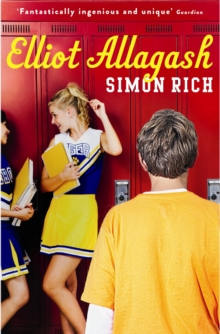 Elliot Allagash
Paperback
Description
Seymour isn't cool, but he isn't a geek either. He's a lonely, obedient 8th grade loser at Glendale, a second tier prep school in Manhattan.
His chubbiness has recently earned him the nick name "Chunk Style" and he has resigned himself to a life of isolation.
All of this is about to change. After successfully getting himself expelled from every reputable school in the country, Elliot Allagash, the arrogant heir of America's largest fortune, finds himself marooned at Glendale.
Try as he may, Elliot cannot get expelled this time; his father has donated too much money.
Bitter and bored, Elliot decides to amuse himself by taking up a new hobby: transforming Seymour into the most popular student in school. An unlikely friendship develops between these two loners as Elliot introduces Seymour to new concepts, like power, sabotage and vengeance.
With Elliot as his diabolical guide, Seymour gradually learns about all of the incredible things that money can buy, and the one or two things that it can't.
Hilarious, ingenious and tightly plotted, Elliot Allagash reminds you what your teens were like, and why growing up is so hard to do.
Information
Format: Paperback
Pages: 240 pages
Publisher: Profile Books Ltd
Publication Date: 01/06/2011
ISBN: 9781846687556
Other Formats
EPUB from £3.18
eAudiobook MP3 from £11.72
Free Home Delivery
on all orders
Pick up orders
from local bookshops
Reviews
Showing 1 - 1 of 1 reviews.
Review by sophilee
16/06/2015
On the whole, I did not particularly enjoy this book. This is in part due to some suspect marketing. The blurb likens it to a modern day 'Clueless' for boys, or a John Hughes film. However, whilst I can vaguely grasp what they were getting at, overall the promise was not fulfilled. In summary, the story centres on Elliot Allagash- a cold, Chuck Bass meets Malfoy-esque character- and his protegee, Seymour. Elliot uses Seymour to entertain himself in the form of elaborate schemes developed under the pretence of self-betterment where Seymour is concerned. These schemes ranged from winning the class election to gaining admission to Harvard. Predictable-and true to teen-makeover, comedy form- Seymour begins to feel guilty as the grandness of the schemes overwhelms him. Everything comes to a rather abrupt end and everyone ends up living happily-ever-after.The first and main problem with this book was that there was not one likeable or relatable character. I believe Seymour was supposed to be the one we were rooting for but I could not make a connection. I think this was because Seymour- and all the other characters for that matter- were not fully formed. I could not picture any of the characters or settings, which was frustrating.The pacing of the book was a little off too. The first 3/4 dragged on end and then the climax felt incredibly rushed. Overall, I would rate this book 2.5/5. I can see what the author intended and I appreciate the idea but I think it could have been a little more finely tuned.