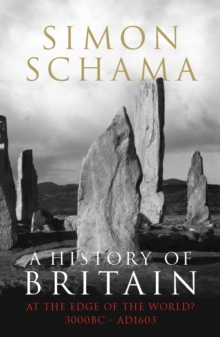 A History of Britain - Volume 1 : At the Edge of the World? 3000 BC-AD 1603
Paperback
Description
Change - sometimes gentle and subtle, sometimes shocking and violent - is the dynamic of Simon Schama's unapologetically personal and grippingly written history of Britain, especially the changes that wash over custom and habit, transforming our loyalties.
What makes or breaks a nation? To whom do we give our allegiance and why? And where do the boundaries of our community lie - in our hearth and home, our village or city, tribe or faith?
What is Britain - one country or many? Has British history unfolded 'at the edge of the world' or right at the heart of it?Schama delivers these themes in a form that is at once traditional and excitingly fresh.
The great and the wicked are here - Becket and Thomas Cromwell, Robert the Bruce and Anne Boleyn - but so are countless more ordinary lives: an Irish monk waiting for the plague to kill him in his cell at Kilkenny; a small boy running through the streets of London to catch a glimpse of Elizabeth I.
The first in a series, this volume paints a rich and vivid portrait of the life of the British people and their nation.
Information
Format: Paperback
Pages: 352 pages
Publisher: Vintage Publishing
Publication Date: 01/10/2009
Category: British & Irish history
ISBN: 9781847920126
Free Home Delivery
on all orders
Pick up orders
from local bookshops
Reviews
Showing 1 - 1 of 1 reviews.
Review by alexbolding
16/06/2015
Vintage Schama in BBC style. This is Schama easy going, Schama the BBC tv maker rather than Schama the history scholar. It reads wonderfully well, and Schama weaves a profound sense of destiny and analytical depth into the narrative of royal dynasty. And that could be the main criticism to the book: too much emphasis on the successive rulers and their perception of the extent and concerns of the realm at the expense of the day-to-day dreg and drudge of the commoners. One of the main perks of the book for me was the dramatic insight that 'King Death', the recurring pest outbreaks since the 1350s, actually left a positive heritage: the abolishment of slavery in Britain on account of the scarcity of agricultural labour. The countryside became so depopulated that the terms of trade shifted in favour of the former slave labour, allowing them to become free smallholder peasants whilst some of them even managed to become big land holders or emerging aristocrats on account of a smattering of education and patronage. Schama also debunks some persistent myths of British history, such as the myth that the Celts originated from mainland Europe (no longer believed to be true), and the myth that William the Conqueror was the second invasive overlord over Britain (after the Romans) who subjugated its peoples (actually the Danish king Cnut had managed to do the same, but gradually and symbiotically before the arrival of William and the Normans from France).