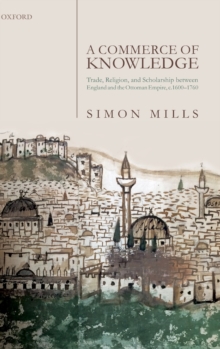 A Commerce of Knowledge : Trade, Religion, and Scholarship between England and the Ottoman Empire, 1600-1760
Hardback
Description
A Commerce of Knowledge tells the story of three generations of Church of England chaplains who served the English Levant Company in Syria during the seventeenth and eighteenth centuries.
Reconstructing the careers of its protagonists in the cosmopolitan city of Ottoman Aleppo, Simon Mills investigates the links between English commercial and diplomatic expansion, and English scholarly and missionary interests: the study of Middle-Eastern languages; theexploration of biblical and Greco-Roman antiquities; and the early dissemination of Protestant literature in Arabic.
Early modern Orientalism is usually conceived as an episode in the history of scholarship.
By shifting the focus to Aleppo, A Commerce of Knowledge brings to light the connections between theseemingly separate worlds, tracing the emergence of new kinds of philological and archaeological enquiry in England back to a series of real-world encounters between the chaplains and the scribes, booksellers, priests, rabbis, and sheikhs they encountered in the Ottoman Empire.
Setting the careers of its protagonists against a background of broader developments across Protestant and Catholic Europe, Mills shows how the institutionalization of English scholarship, and the later English attemptto influence the Eastern Christian churches, were bound up with the international struggle to establish a commercial foothold in the Levant.
He argues that these connections would endure until the shift of British commercial and imperial interests to the Indian subcontinent in the second half of theeighteenth century fostered new currents of intellectual life at home.
Information
Format: Hardback
Pages: 352 pages, 15 black and white figures/illustrations
Publisher: Oxford University Press
Publication Date: 19/12/2019
Category: European history
ISBN: 9780198840336