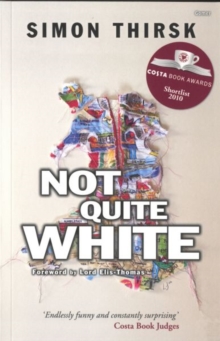 Not Quite White
Paperback
Description
A novel exploring the tensions between the Welsh and the English.
It's a passionate defence of cultural and political identity, and a plea for tolerance.
It's also a sustained attack on the forces of small-town bigotry and corruption.
But, above all, it's an acknowledgement of the subtleties and ambiguities that exist in even the most entrenched attitudes.
Reprint; first published 2010.
Information
Format: Paperback
Pages: 480 pages
Publisher: Gomer Press
Publication Date: 30/07/2010
ISBN: 9781848511996
Free Home Delivery
on all orders
Pick up orders
from local bookshops
Reviews
Showing 1 - 2 of 2 reviews.
Review by dheijl
16/06/2015
If you are Welsh, or have anything to do with Wales or the Welsh, I think you should read this book. Aside from that, it is a very good read, a "ripping yarn" that you want to finish. If you're Welsh or English having connections with Wales/the Welsh you might find yourself looking into a (sometimes grossly distorted) mirror at times, but you'll laugh. I enjoyed it immensely (not being Welsh or English but having fallen in love with the country and the language). And the points being made are not limited to Wales, but apply to the whole of Western Europe I think.
Review by CharlotteN
16/06/2015
This book highlighted a lot of issues that I wasn't really aware of before, which was very interesting. I know Wales, and Welsh, a little but this fictionalised account of very real problems facing small communities in North Wales raised a lot of questions (and answered a few). So for that, I would give 5 stars. I also found the narrative structure to be quite clever - with the two main characters alternately telling each other their side of the story, creating in some places a mixture between 1st-person and the rarely used 2nd-person narrative. What prevents me from giving this the top-rating is that I personally didn't always find the characterisations very convincing. I realise that, as a satire, a lot of the characters would have been forms of stereotypes and more exaggerated examples of real people than true characters in their own right. However, even the two main characters didn't completely sit right with me. The way the female protagonist talked about her inner feelings felt a bit forced at times. There was also a glossary of Welsh words and sentences used in the narrative at the back which didn't always tally with what was written in the text, which I thought would be confusing and off-putting for readers who know no Welsh. On the whole, though, I enjoyed this book and would recommend it to anyone who wants to learn more about a culture and politics which can often be ignored outside of Wales.