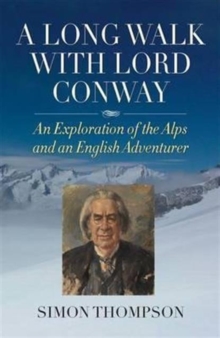 A Long Walk with Lord Conway : An Exploration of the Alps and an English Adventurer
Hardback
Description
In 1894, Martin Conway became the first man to walk the Alps 'from end to end' when he completed a 1,000-mile journey from the Col de Tende in Italy to the summit of the Ankogel in Austria.
On a midsummer's morning, nearly 120 years later, Simon Thompson followed in his footsteps, setting out to explore both the mountains and the man. A charming rogue who led a 'fantastically eventful' life, according to The Times, Conway was a climber and pioneering explorer of the Himalaya, Spitsbergen, the Andes and Patagonia; a serial pursuer of American heiresses; an historian, collector and Slade Professor of Fine Art at Cambridge; a company director and stock market promoter of dubious gold mines and non-existent rubber forests; the founder of the Imperial War Museum; the first foreigner to see the Russian crown jewels after the revolution; a successful journalist and author of over thirty books; a liberal politician; and a conservative MP.
Shortly before he died, he was created 1st Baron Conway of Allington. Conway was a clubbable man who counted Winston Churchill, David Lloyd George, Henry James, Rudyard Kipling, J.
P. Morgan, John Ruskin, Mark Twain and Edward Whymper among his many friends and acquaintances.
An imperialist, a dreamer, a liar and a cheat, Conway 'walked in sunshine all his life', according to contemporaries, but he was also a restless, discontented man, constantly searching for meaning and purpose in his life. And that search that led him back, time and time again, to the Alps. In A Long Walk with Lord Conway, Simon Thompson retraces Conway's long journey over the peaks, passes and glaciers of the Alps and rediscovers the life of a complex and remarkable English adventurer.
Information
Format: Hardback
Pages: 320 pages, Illustrationsstratiosn, maps
Publisher: Signal Books Ltd
Publication Date: 20/06/2013
ISBN: 9781908493804
Free Home Delivery
on all orders
Pick up orders
from local bookshops