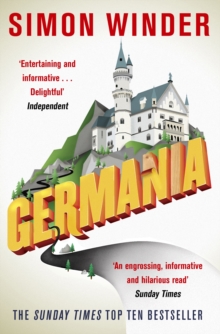 Germania : A Personal History of Germans Ancient and Modern
Paperback
Description
'It made me laugh so hard that I woke up my wife and had to give up reading the book in bed.
If Bill Bryson had collaborated with W. G. Sebald to write a book about Germany, they might have wound up with something like this' Sunday Times Germania is a very personal guide to the Germany that Simon Winder loves.
Equally passionate about the region's history, folklore, cuisine, architecture and landscape, Winder describes Germany's past afresh -- and in doing so sees a country much like our own: Protestant, aggressive and committed to eating some very strange food.
This accessible, enthusiastic and startlingly vivid account is a brilliant introduction to the hidden wonders of Germany. 'A splendid offering' Financial Times 'His excitement is beguiling and infectious ...There are many pleasures to be savoured in Germania, gems that make Winder's clever, rambunctious work a book to treasure' Literary Review 'Beautifully written and insightful' Irish Times
Information
Format: Paperback
Pages: 480 pages
Publisher: Pan Macmillan
Publication Date: 01/02/2011
Category: European history
ISBN: 9780330451406
Free Home Delivery
on all orders
Pick up orders
from local bookshops
Reviews
Showing 1 - 2 of 2 reviews.
Review by Steve38
16/06/2015
German history made interestingA really good anecdotal and idiosyncratic history of Germany. Simon Winder doesn't let his lack of expertise or German get in the way. His love of Germany overcomes everything. He glories in the Ruritanian past of today's European superpower. As well as history he provides a wonderful travelogue with lots of ' I must go there, see that' moments scattered throughout the book. And he is a master of digression if not quite on the scale of Tristram Shandy. He shows a little lack of imagination by using a traditional chronological approach to telling the historical tale but he doesn't fail to engage the reader on what could be (is) a long, difficult and complicated story.Read less
Review by CatherineCl
16/06/2015
If you would like to know more about German history than just the events of the Second World War, then I recommend this laugh out loud history of the Germans. Simon Winder has organised his view of Germany history using his travels around Germany and its neighbours to develop themes such as a Germanic cultural obsession with the Middle Ages, the horrors of the Black Death and the Thirty Years War and the role of Free Imperial Cities. Those readers who have a more extensive knowledge of Central European history than me can have fun disagreeing with his vividly expressed opinions and amusing asides. Here is one example from p150, 'One very odd aspect to many European countries, not often noticed, is that, if you start in their top north-wests they are generally unattractive, gloomy, harsh places - but if you travel south-east life gets better. This is drastically true in Scandinavia, but more curiously it works for Spain, Italy, France and Greece.'If you, like me, reside in the fair city of Sheffield (the greenest city in Britain), you too can borrow this excellent book from the public library.