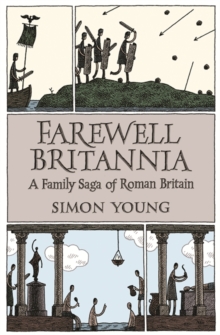 Farewell Britannia : A Family Saga Of Roman Britain
Paperback
Description
A vivid and gripping account of Roman Britain, written as a family historyBrilliant young historian Simon Young has invented a multi-generational family, part Roman, part Celtic (invaders intermarrying with natives) to tell the dramatic story of 400 years of Roman rule in Britain.
Vivid historical detail is balanced by a real feel for the psychological depth of the individual stories.The narrator is writing this 'family history' in 430 AD, realising the Romans will never return.
He chooses 14 of the most interesting, but not always the most admirable, of his ancestors.
The big events of Roman Britain are all here: scouting for Caesar's expedition in 55 BC; the Roman invasion in 43 AD; Boudicca's revolt and the massacre of 70,000 Romans; the Pict attacks on Hadrian's Wall; the great Barbarian Conspiracy of 367; and the sudden cataclysmic departure of the legions in 410.
But there are plenty of non-military episodes: spying on the Druids; a centurion dreaming of retirement with a young slave he has bought; an ambitious wife on the northern frontier; a bad poet in Londinium; infanticide in Surrey; a young Christian girl facing martyrdom in a British amphitheatre.
Information
Format: Paperback
Pages: 304 pages, 5 Maps
Publisher: Orion Publishing Co
Publication Date: 01/04/2008
Category: Historical fiction
ISBN: 9780753823705
Free Home Delivery
on all orders
Pick up orders
from local bookshops
Reviews
Showing 1 - 2 of 2 reviews.
Review by john257hopper
16/06/2015
This is for me a slightly uneasy amalgam of fact and fiction detailing episodes in the birth, life and death of Roman Britain. It connects historical names found in primary sources through the family of Togidubnus's Atrebates clan. It is an excellent way of learning about Roman Britain, though I am not sure the fictional element really added to the impact of the book - large parts of each mini-story were background explanation anyway. I suppose it is a bit like the historical docudramas that are now very common. I am sure this style does help to bring history to life for many people, but I am probably a bit of a purist - I like fiction to be clearly fiction (though based on historical fact or reasonable extrapolations therefrom), and fact to be clearly fact.
Review by janerawoof
16/06/2015
An interesting premise for a book I liked very much. The author had the idea of highlighting different important events in Romano British history. He invented a fictional family and had a narrator [the unnamed genealogist] tell the parts various ancestors played, in a collection of fifteen short stories. There was a family tree in the front, maps, and line drawings. The writing was always superb, but the stories were of varying interest to me; some I liked more than others. I liked the marriage of history and creativity. Young took a few facts--historical, linguistic, or archaeological--and wove plausible short stories from them. I read this in paperback, not on a Kindle.The stories began with Commius, a Gaul, arriving with Julius Caesar in 55 BC to scout out the southern part of the country. Commius decides to settle. The family is called Atrebates, name of a tribe, for our convenience; there actually were no last names in those days. The stories all concern the actions of different family members in the whole of Roman British history, from 'discovery' through the genealogist's nephew Ambrosius' unsuccessful mission to Emperor Honorius to ask for help for Britannia from the Scotti, Saxons, Picts and Attacotti besieging her. In 410 AD after Ambrosius's harrowing journey to Italy, the Emperor gives him letters to bring back, stating Britannia is on her own now; the emperor is withdrawing the legions.Each story was a very well done snapshot of Romano British history. Everyone will have their own favorites but mine were: * "Discovering Britain": Commius's story. * "Wife on the Frontier": Claudia Severa, wife of a prefect in a fort on Hadrian's Wall and the party she plans and gives, ostensibly her own birthday party, but also more importantly in honor of the governor's visit [and intended as a bit of apple-polishing on her husband's behalf]. This tale is based creatively on one of the Vindolanda tablets: an invitation to a birthday party one officer's wife wrote to another. Young has added the governor's visit--a complete fiction. Claudia's connection to the family is revealed in the story. * "On the Turf Wall [Antonine Wall]: Trifosa, a slave: the family had gone bankrupt and some members were sold into slavery. She is bought by a centurion, Marcus Cocceius Firmus, who dreams of his discharge from the military less than a year away. He plans to free her and to retire with her to a villa on the Black Sea. Maybe they will have children... * "A persecution of Christians": Iamcilla, a Christian, is persecuted and slain in the amphitheater. * "The end of Roman Britain", which I've mentioned above, in which the fateful letter is brought back to Roman Britain. At the end of each story, Young tells us the object of the story and where he found his bits of information. 'Notes' towards the back explain more fully. highly recommended.