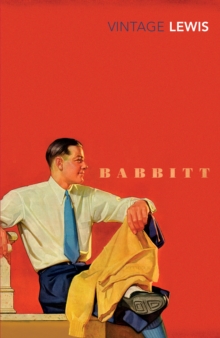 Description
BY THE AUTHOR OF IT CAN'T HAPPEN HERE. Businessman George F. Babbitt loves the latest appliances, making money and the Republican party.
In fact, he loves being a Solid Citizen even more than he loves his wife.
But Babbitt comes to resent the middle class trappings he has worked so hard to acquire.
Realising that his life is devoid of meaning, he grows determined to transcend his trivial existence and search for a greater purpose.
In the economic boom years of 1920s' America, Babbitt became a symbol of middle-class mediocrity, and his name an enduring part of the American lexicon.
Information
Format: Paperback
Pages: 384 pages
Publisher: Vintage Publishing
Publication Date: 03/01/1998
ISBN: 9780099264712
Other Formats
Paperback from £3.99
EPUB from £1.37
Hardback from £15.99
Paperback / softback from £4.98
eAudiobook MP3 from £19.28
Free Home Delivery
on all orders
Pick up orders
from local bookshops
Reviews
Showing 1 - 2 of 2 reviews.
Review by soylentgreen23
16/06/2015
I see a lot of myself in Babbitt. He's a man trapped within himself and his limitations; he wants to be free, but he's not sure exactly what he wants to be free from, or how to go about his release from the pressures of society and relationships. His rebellion is fascinating though short-lived.The novel itself is more of an account of America in the early 1920s - the rampant growth of the economy, the nascent anti-communism leanings that would reach their zenith with McCarthy, the standardisation and normalisation of everything and everybody, and the rise of 'science' - though this being America and business, a very unscientific science.
Blindly delving into old classics is always kind of interesting: has it aged well? What makes it a classic? Babbit started out really promising: very funny in an old fashioned, observational humour kind of way. I knew I had some sort of meaningful story ahead of me (it's a classic, after all), and having read the first chapter I really looked forward to reading a timeless story delivered in an entertaining manner. Unfortunately a lot of the humour dabbed off rather quickly, leaving "only" a good story.And there can be no doubt, the story is inarguably very good. It's about a man, Mr. Babbit, who is relatively rich, and has a relatively high standing in society. Most of his life consists of hustling to become richer and achieve an even higher standing. The motivation behind him living this way isn't entirely clear: is he doing what he wants to do, or is he just doing what society expects of him? How badly does he want society to approve of him? Even if it does lead to esteem, money, power, and positions, does that make it worth living your life after a template, following the path everyone expects you to follow? Do you have a choice?Thoughts like these had never really occurred to Mr. Babbit until a few events leads to him down a path where he has to face up to a few of these questions. For me the book is at its best when we see Babbit struggling with these questions, and the ways in which he confronts them feels believable. The story also feels like it ended up where the characters made it end up, rather than being a pre-determined chain of events in which the characters were just… well, characters.Having said all of the above, there is quite a bit of fluff around everything. The fluff wasn't all that interesting to me, and there also seemed to be a "the role of the man in society"-thread that, while I could appreciate, I couldn't really relate to. Some of the fluff is rather good satire, and most of it serves a purpose. Still, there is a little too much of it, and unfortunately the story does drag along at times. It's still an interesting book, and it is easy to see why it is significant. As always, it is also fun to see how some things never change ("the youth today" were as hopeless in 1922 as they are now), and while Babbit is not a page-turner, nor especially exciting, it's worth the time spent reading it.