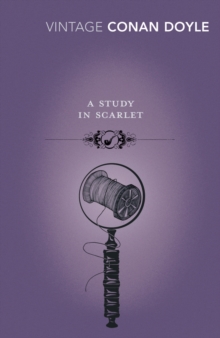 A Study in Scarlet
Paperback
Description
This book includes an introduction by Mark Billingham.
When Dr Watson ends up renting rooms in Baker Street with the eccentric Sherlock Holmes, he finds that he has let himself in for a great deal more than he imagined.
He is called upon to help the budding detective solve a perplexing mystery, involving a dead body found in a locked room.
Although the body shows no signs of having been attacked, Holmes is convinced that a murder has been committed.
As Watson looks on, he uses his exceptional powers of deduction to unravel a case that involves both kidnapping and thwarted love.
Information
Format: Paperback
Pages: 160 pages
Publisher: Vintage Publishing
Publication Date: 03/09/2009
Category: Classic fiction (pre c 1945)
ISBN: 9780099530534
Other Formats
Hardback from £5.79
Paperback from £2.50
CD-Audio from £15.05
Free Home Delivery
on all orders
Pick up orders
from local bookshops
Reviews
Showing 1 - 2 of 2 reviews.
Review by roulette.russe
16/06/2015
My version of the book contained A STUDY IN SCARLET (the first Sherlock Holmes adventure) and A SCANDAL IN BOHEMIA (the episode in which Irene Adler appears). The book opened on a very interesting introduction, and so I would encourage reading the VINTAGE 2009 edition of the Conan Doyle books.(I must say I read the book after watching the Guy Ritchie movie that just came out and so had Robert Downey Jr in mind reading this : somehow, he really fits the character as portrayed in the book!)I'm not a big fan of detective fiction in general, and my knowledge in that field is, well.... next to non-existent (although I was an avid watcher of cartoon series such as 'Sherlock Hounds' and 'Dog City', as a kid... Does that count? Heh, heh?) It's just not the kind of story I'm usually drawn to/into, but I must say Arthur Conan Doyle knows how to put the FUN in detective fiction!The Sherlock Holmes books are not books you read trying to figure out who is the killer before the detective does, since mister super-sleuth always knows the answer way before anyone. The main interest of the book is the character himself and his crazy deduction methods.This first episode (A study in Scarlet) has ups and downs: the whole Mormon segment that takes place in the U.S. seems way too long and slow paced in comparison to the London scenes... In the introduction to my edition, it was discussed that the two stories were probably written independently from one another and put together by Conan Doyle when he decided to publish. In A SCANDAL IN BOHEMIA, Holmes is outsmarted by a fancy woman, and the conclusion to the story is delightfully cute and funny.A good read, very entertaining!
Review by Schmerguls
16/06/2015
I read The Hound of the Baskervilles when I was in high school, but not anything else till I read this--the first Holmes novel, published in 1887. The first hald of the book where we are introduced to Dr. Watson and to Holmes' methods, is of some interest. But the second hald,which tells of events before the muders in the first hald, is creaky and anot much. The Mormons in Utah are the villians, as they are in Zane Grey's Riders of the Purple Sage. I don't think I need read any more Holmes books
Also by Sir Arthur Conan Doyle | View all