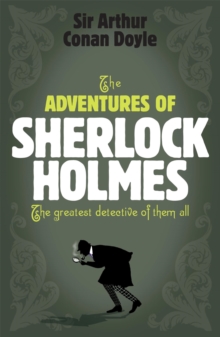 Sherlock Holmes: the Adventures of Sherlock Holmes (Sherlock Complete Set 3)
Paperback
Description
'I have heard, Mr. Holmes, that you can see deeply into the manifold wickedness of the human heart'.
Scandal, treachery and crime are rife in Old London Town.
A king blackmailed by his mistress, dark dealings in Opium dens, stolen jewels, a missing bride - these are cases so fiendishly complex that only the great Sherlock Holmes would dare to investigate.
For he, and he alone, has the extraordinary faculty of perception and almost unhuman energy which could solve them ...
Information
Format: Paperback
Pages: 352 pages
Publisher: Headline Publishing Group
Publication Date: 18/12/2006
Category: Classic crime
ISBN: 9780755334353
Free Home Delivery
on all orders
Pick up orders
from local bookshops
Reviews
Showing 1 - 1 of 1 reviews.
Review by David.Alfred.Sarkies
16/06/2015
Sometimes it is the mystery rather than justice being done (23 January 2012) If there is one thing that I have to say about Sherlock Holmes and that is that he is a freak. To be honest with you, to me, Sherlock Holmes is to detective stories what Lord of the Rings is the fantasy novels, basically everybody since Doyle has been attempting to create a character that is either on par, or even exceeds, Doyle's masterpiece and has failed abysmally (well, that's not entirely true, if you consider Agatha Christie). Okay, I should suggest that since I have not read much detective fiction beyond this one book (and I do not consider Poe to be a writer of detective mysteries) then my judgement is a bit clouded, however my father, who is a fan of detective novels, suggests that a lot of them involve fanciful reasoning (he says the same about Holmes) and many of them simply involve somebody stumbling over a murder and then working out who is the culprit.I will probably read some other books at a later date, but at this stage, I will probably stick with some more of the Holmesian books, particularly since most of his adventures are short stories, and few of the adventures actually involve solving a murder. This particular book, which is a collection of short stories, and is the third Sherlock Holmes book released, after A Study in Scarlet and Sign of the Four, is a great introduction to the character of Sherlock Holmes and the short stories give one a good impression of his methods, and his adventures, without getting too bogged down into detail.Each of the adventures consist mostly of dialogue, the first is usually the client explaining to Holmes the problem, Holmes then travels for a bit, and the story will finish with another lot of dialogue, which generally involves Holmes explaining how he arrived at his conclusions, and occasionally the culprit confirming Holmes' conclusions and filling in the gaps. As mentioned though, the mysteries cover all sorts, some of them are murders, others thefts, and among them are jilted lovers, a strange event at a country house, and one which involved attempting to locate the owner of a hat. Okay, that one particular story started with Holmes paying a lot of attention to a bowler hat (and a goose found next to it) in attempting to determine the owner, and then discovers the Blue Carbuncle hidden inside the goose. So, the adventure went from trying to find the owner of the hat to attempting to discover how a national treasure landed up inside a goose. I am told that in the later books, Doyle's adventures become a lot more like this.Most of my exposure to detective fiction has usually been through television shows, and they usually involve a murder, though The Maltese Falcon didn't, but then again that particular movie is a cut above the rest. Oh, there are also the Harry Dresden books, but the two that I have read to date both involved murders, though the protagonist is a rather interesting character. This is where I come to the character of Holmes. Before I read the books I always considered Holmes to be a very conservative individual, with no real character, who went about solving murders. In truth I could not have been more wrong. The reason that I actually read this book is that I wanted to see how close Guy Ritchie's Sherlock Holmes was to the original character, and I must admit that I have concluded that they are quite close.Straight out, Sherlock Holmes is a substance abuser, with cocaine being his drug of choice. He is a loner that, unless he is on a case, locks himself in his room in Baker Street, surrounded by books and other strange objects and pretty much has only one friend, and that is Watson. Watson is actually completely the opposite to Holmes. Holmes' past is quite mysterious. We get glimpses of his skills and knowledge base (and it is quite extensive), and we also learn that he used to frequent brothels (though not anymore, one gets the impression that he is not interested in sex). He will help out the police occasionally, but is prone to throw them a few crumbs of information and then let them work the rest out themselves. Some have suggested that he and Watson are homosexual, and while I will not go into details here, I do not believe it is the case (particularly since Doyle considered homosexuality to be a mental illness, which means, even if Holmes was partial to it, Watson is not).I would like to finish off with the question as to whether Holmes could be considered amoral. Personally I think not, but then again, as a fictional character, he is more likely to be amoral than a real person. I do not believe that it is possible for a real human being to be truly amoral, simply because we are brought up in a moral society and in doing so we have a sense of social morals embedded into us from a very young age. However Holmes is a strange character: on at least on two occasions in this book he lets the culprit go. The first was a man who had only weeks to live and pleaded with Holmes to let him die a free man. However, one could hardly call this man a moral, upstanding human being that was driven to the act through extenuating circumstances. The man was an armed robber, who had hijacked a gold wagon in Australia, and was being blackmailed by the victim (meaning that neither of the characters were all that upstanding). The second culprit was a thief who recognised his mistake, and was repentant, so Holmes let him go. It should also be noted that in these two cases, innocent people were being tried for the crimes, but Holmes was satisfied that the charges would not stick.I don't think Holmes always gets things right though. We are told that he was beaten by four men and one woman, though it is the woman (Irene Adler) who takes the centre stage of being the 'one who beat Holmes'. Maybe it is because she was a woman, or maybe it was because she truly was Holmes' match (and Guy Ritchie plays this up a lot in the films). Also, in the story of the orange pips, he is satisfied that the culprits got their just deserts when a plank of wood, bearing the name of the ship on which the culprits were travelling, was found floating in the mid-Atlantic. It is assumed, by Holmes and Watson (though not made clear by Doyle) that the ship sank. My argument is 'not necessarily so'. It is possible (and Doyle does leave it open) that the ship pulled into port, rebadged itself (and this happens all too frequently), and then threw a board into the ocean to create the belief that it had sunk.Returning to the question of amorality before I finish off, there is also the idea that Holmes is not concerned about justice in the sense that we are, but is rather more interested in solving the mystery. He is a consultative detective, so unlike the police, he is not bound by laws, and will take on cases which involve no laws being broken (though there is usually a scoundrel involved). To Holmes, it is solving the mystery, and unless he has a mystery to solve, he is board, and generally resorts to his drug addiction to keep him entertained.
Also by Sir Arthur Conan Doyle | View all
Also in the Sherlock Complete Set series | View all