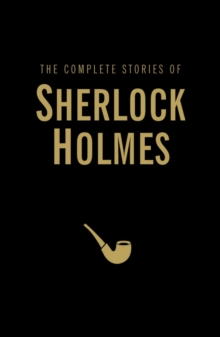 The Complete Stories of Sherlock Holmes
Hardback
Description
It is more than a century since the ascetic, gaunt and enigmatic detective, Sherlock Holmes, made his first appearance in A Study in Scarlet.
From 1891, beginning with The Adventures of Sherlock Holmes, the now legendary and pioneering Strand Magazine began serialising Arthur Conan Doyle's matchless tales of detection, featuring the incomparable sleuth patiently assisted by his doggedly loyal and lovably pedantic friend and companion, Dr Watson. The stories are illustrated by the remarkable Sydney Paget from whom our images of Sherlock Holmes and his world derive and who first equipped Holmes with his famous deerstalker hat.
The literary cult of Sherlock Holmes shows no sign of fading with time as each new generation comes to love and revere the penetrating mind and ruthless logic which were the undoing of so many Victorian master criminals.
Information
Format: Hardback
Pages: 1408 pages
Publisher: Wordsworth Editions Ltd
Publication Date: 05/03/2008
ISBN: 9781840220766
Other Formats
Paperback from £27.95
Hardback from £34.95
Paperback / softback from £21.95
Free Home Delivery
on all orders
Pick up orders
from local bookshops
Reviews
Showing 1 - 1 of 1 reviews.
Review by JeremyPreacher
16/06/2015
This is a massive omnibus so I will be reviewing the bits as I finish them. (I have read one or two of the short story collections before - everything else should be fairly new.)<br/><br/>A Study in Scarlet:<br/><br/>I knew the bones of the mystery already - it's been riffed on so many times it's impossible not to. But I was struck by first, how charming the introduction of Our Heroes is, and secondly how wacky the random Western stuck in the middle seemed. I would have found it more charming if I had any patience right now for sinister Mormons and the caricatured portrayals thereof.<br/><br/>The Sign of the Four:<br/><br/>Similarly, this mystery is centered around discovering what happened in far-off exotic places that came home to roost. It feels more slight than A Study in Scarlet and there's a degree of period-standard racism than makes me flinch, but Watson and Holmes remain entertaining.<br/><br/>The Hound of the Baskervilles:<br/><br/>A pure English countryside mystery. Holmes is really kind of a dick to Watson, but one can't argue too much with success, and of course Watson doesn't. Definitely one of those where the reader really can't jump ahead too much, because the solution is dependent on clues we just don't get until the end. I don't mind that too much, but I know it infuriates some people.<br/><br/>The Valley of Fear:<br/><br/>Again a local mystery bracketed around an Exciting Adventure in Foreign Parts. I find this device baffling, although the interstitial story was much better than the previous two examples. Introduces Moriarty in a distant sort of way.<br/><br/>The Adventures of Sherlock Holmes:<br/><br/>The short stories begin! This and the following volume I had read previously. I can definitely see why Holmes and Watson are such resilient characters - their relationship is delightful. The actual stories are pleasantly short, and I was satisfied that while I couldn't actually solve the mystery most of the time (the reader doesn't get enough info) I could usually see the shape of it, which made me anticipate the reveal more than I would have otherwise.<br/><br/>The Memoirs of Sherlock Holmes:<br/><br/>Just as entertaining as the Adventures. The Final Problem was one I'd heard so much about that it seemed like I must have read it, but it was nice to actually do so. The stories don't stick in my head much - they're fairly slight - but fun and worth the read.<br/><br/>His Last Bow:<br/><br/>A few interesting variations - a story written in the third person, one written from Holmes' perspective - but otherwise more of the same.<br/><br/>The Casebook of Sherlock Holmes:<br/><br/>The joy does seem to have gone out by this point. Fairly rote, although reading for homoeroticism remains a delight.<br/><br/>Incidental note: This is a huge cheap edition that I picked up for a song. Wouldn't recommend it - heavy, unwieldy, and unlovely.
Also by Sir Arthur Conan Doyle | View all
Also in the Wordsworth Library Collection series | View all