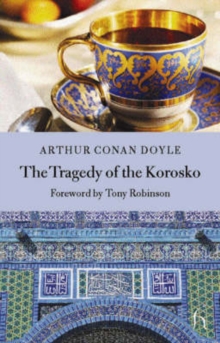 The Tragedy of the "Korosko"
Paperback
Description
An unusual story of East meets West, Conan Doyle's The Tragedy of the Korosko, describes mayhem and madness in the Arabian desert.
When a select party of American and English tourists board the Korosko in search of Eastern magic, they are ill prepared for what is to follow.
Taken hostage by Islamic fundamentalists, they encounter the ultimate in cross-cultural experiences - one that leaves them fearing for their lives.
But what begins as a tale of unforeseen horror is soon transformed into love in a hot climate.
Conan Doyle brings his mastery of thrills and suspense to bear on this classic fiction.
Information
Format: Paperback
Pages: 112 pages
Publisher: Hesperus Press Ltd
Publication Date: 01/03/2003
Category: Crime & mystery
ISBN: 9781843910398
Other Formats
Paperback from £6.15
Hardback from £16.85
Paperback / softback from £15.85
EPUB from £1.07
Free Home Delivery
on all orders
Pick up orders
from local bookshops
Reviews
Showing 1 - 2 of 2 reviews.
Review by edwinbcn
16/06/2015
A trend which can be observed in publishing for a few years now is to publish small books, rather than thicker ones. Various publishers bring out titles such "short introductions", "essentials" or even "short biographies". This trend is likely to find following in the e-book commerce, selling short stories singled out from the collections they originally belonged to. The Hesperus Press is a proponent of this trend, bringing out small, handsomely printed volumes of "around 100 pages", sometimes just below, sometimes just over, up to 130 pages, as in the case of The tragedy of the Korosko by Sir Arthur Conan Doyle.Sir Arthur Conan Doyle was a very prolific and very productive writer, best known for the Sherlock Holmes stories, beside very different genres such a the Professor Challenger stories, historical novels and a variety of other works, to which The tragedy of the Korosko belongs, published in 1898.Each volume in the series published by the Hesperus Press is preceded by a foreword, usually by well-known writers, who, however, are not experts on the author. They make for interesting reading, as they provide some insight through the eyes of another reader, but not just anybody. Some of these introductory essays are very interesting in themselves. I felt the foreword to this edition, written by Tony Robinson was neither particularly interesting not insightful, pondering too much on parallels between the story and Arab (sic!) terrorism in our day, and raising provocative questions such as "Why is there a British presence in the Near east?", Wherein lies its moral authority?" and "Why do so many Arabs hate us"? These are questions that are on the mind of Mr Robinson, just as he opens with a mistaken panic situations, referring extensively to the 9-11 attacks. While quoting Conan Doyle mindlessly, Robinson never shows the fruit of the wisdom that "fear (..) seldom helps us come to balanced conclusions". (The foreword was written in 2003.)Telling us more about himself, and his short visit to Egypt, Robinson forgets to tell the reader that Arthur Conan Doyle lived in Egypt from the autumn of 1895 till 1899, where he witnessed clashes between British troops and the Dervishes. This stay in Egypt provided him with the material for the book. On the other hand, I would surmise that the general reader, like myself, would know very little about the modern history of Egypt, and therefore could not come close to answering Mr Robinson's confusing and misguided questions. In fact, Egypt would not become a British Protectorate until 1914, although the British presence was felt strongly before that as Great Britain rescued Egypt from a debt crisis, as huge national debts had accrued following the construction of the Suez Canal.However, such political backgrounds are not necessary to read Conan Doyle's stories. Many, is not most of his works are exciting diversions. Egypt inspired him to write some blood-curdling horror stories, particularly The ring of Thoth and Lot 249. The tragedy of the Korosko can be read in the same way as a number of other Africa-related adventure stories, such as the Alan Quartermain novels by Sir Rider Haggard.The tragedy of the Korosko tells the story of a group of Western tourists, some British, American, a Frenchman, etc who set out on a boating trip to do some sightseeing. Characterization follows some amusing national stereotypes, as the story unfolds and the tourists are captured and carried away by a band of ruthless marauders. The story is very entertaining, bringing together a number of stock piled ideas about arrogance and civilisation on the part of the Westerners, ruthlessness on the part of the marauders, and their fixation of the muslim faith, against the backdrop of the desert, with Camel caravans, Oases, the fearsome prospects of their destiny of being sold on the slave market in Karthoum and their hope of rescue before their captors transport them beyond the reach of the British garrison.I was unlucky that my copy, bought in 2004, was a misprint, so 30 pages were printed twice, while another 30 pages were missing, at the beginning of the book. However, this was easily remedied as the books is available as an e-book from The Gutenberg Project in two versions, A Desert Drama and The tragedy of the Korosko.Excellent reading.
Review by john257hopper
16/06/2015
A wonderful little gem by Conan Doyle. This is a gripping short novel about a party of European tourists kidnapped by bandits in Egypt. It has some modern things to say about relationships between the West and the Muslim world, albeit told with 19th century presumptions about the innate superiority of the former over the latter and especially of Christianity over Islam. The plot is genuinely gripping in a modern thriller sense and I found I cared for the fate of the main characters and was shocked when any of them were killed. My Hesperus edition has a beautiful cover and lovely clear typeface, which added to the reading pleasure . This should be better known - I picked this up by chance in a charity shop and had never heard of it before.
Also by Sir Arthur Conan Doyle | View all
Also in the Hesperus Classics series | View all