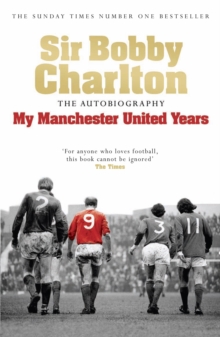 My Manchester United Years : The Autobiography
Paperback
Description
Bobby Charlton is Manchester United through and through.
He was a member of the original Busby Babes and has devoted his career to the club, playing in 754 games over 17 years.
During that period he won everything the game had to offer, played alongside some of the greats such as Best and Law, suffered devastating defeats and was involved in one of the greatest football tragedies of all time.
Here, for the very first time, he tells the story of those United years.
With his beloved Reds he tasted FA Cup victory in the emotional final of 1963, won three first division championships and in 1968 he reached the pinnacle of club success, winning the European Cup.
Inevitably, such highs are balanced with no less dramatic lows, such as the 1957 European Cup semi-final, the highly charged 1958 FA Cup loss which followed only weeks after the horrors of the Munich Air disaster, and the 1969 European Cup defeat by Milan.
He is one of the true gentlemen of football and the legacy that Bobby Charlton gives to United is beyond compare.
Information
Format: Paperback
Pages: 448 pages, 2 x 8pp colour photos
Publisher: Headline Publishing Group
Publication Date: 01/05/2008
Category: Autobiography: sport
ISBN: 9780755316205
Free Home Delivery
on all orders
Pick up orders
from local bookshops
Reviews
Showing 1 - 1 of 1 reviews.
Review by Choccy
16/06/2015
17 January 2006. Man Utd cafe, Jakarta.Sir Bobby Charlton: "Don't you have a camera?"Me: *stammering* "Er....I have it somewhere...." (searching in panic for my friend who had the bloody cam but nowhere to be se ...more 17 January 2006. Man Utd cafe, Jakarta.Sir Bobby Charlton: "Don't you have a camera?"Me: *stammering* "Er....I have it somewhere...." (searching in panic for my friend who had the bloody cam but nowhere to be seen)*picture finally taken, thanks to another friend who used his cell phone*Me: "thanks a lot Sir, an honor to meet you...."*hurriedly ushered away by the super paranoid/inflexible security officer**but….shaking with joy*That's my once in a lifetime experience meeting with this legend. I was definitely starstruck and in awe. It's frickin' Bobby Charlton, man! The Munich survivor, one of the Big Three players who helped United won the European Cup, and one of the most renowned legends ever walked on the green pitch of Old Trafford.That's why I was so excited when I finally got a hold of this book (I love you, Bookmooch!). It does not disappoint me at all. Compared with the brutal (yet honest and well written) personal account from Roy Keane that I read earlier this year (titled "Keane: The Autobiography"), this book offers a more diplomatic account on a footballer who had played in every stage of competition, club and country. He seems to be really a nice guy, Sir Bobby. It seems that he had good things to say about everyone – no matter if they just spent a minor time in United. Even the only person he publicly 'criticized' in this book for bashing his wife, namely his brother Jack, was still showered with praises.I love the way he described his apprenticeship under Jimmy Murphy, the right hand of Sir Matt Busby. It's almost like I was there beside him since he gave quite an extensive explanation on Murphy's teaching.I also like the historical accounts on how football (and football business e.g. player's salary) evolved in those days. He also made references and comparisons with the today's system, so it's more understandable.Not much funny stuff one can find here, but there were indeed several parts in the book that made me laughed. Like for instance his friendship with the accident-prone Nobby Stiles. Stiles never said good morning to his teammates. Instead, he reported a disaster with this sentence: "You'll never believe what I did this morning..."The Munich chapters are haunting. Especially the first chapter. My goodness. It gave me the chills when he recited those horrifying moments in the slush-covered runway at Munich-Riem airport. No one screamed when the crash happened, he recalled. The Old Man was covered with blood, looking ghastly pale and Sir Bobby covered him with his jacket while still suffering from concussion. *shudders*All in all, this is a must-read autobiography for all enthusiasts of English football, not just ManUtd fans. You can learn so much, not just the stories of other legends like Duncan Edwards, Georgie Best and Denis Law, but you'll get to see what it's like to be in Bobby Charlton's shoes.