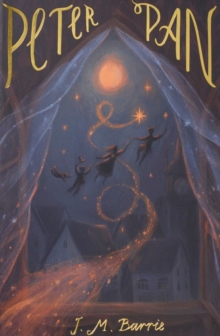 Peter Pan & Peter Pan in Kensington Gardens
Paperback
Description
The magical Peter Pan comes to the night nursery of the Darling children, Wendy, John and Michael.
He teaches them to fly, then takes them through the sky to Never-Never Land, where they find Red Indians, wolves, Mermaids and...
Pirates. The leader of the pirates is the sinister Captain Hook.
His hand was bitten off by a crocodile, who, as Captain Hook explains 'liked me arm so much that he has followed me ever since, licking his lips for the rest of me'.
After lots of adventures, the story reaches its exciting climax as Peter, Wendy and the children do battle with Captain Hook and his band. Peter Pan in Kensington Gardens is the magical tale that first introduces Peter Pan, the little boy who never grows any older.
He escapes his human form and flies to Kensington Gardens, where all his happy memories are, and meets the fairies, the thrushes, and Old Caw the crow.
The fairies think he is too human to be allowed to stay in after Lock-out time, so he flies off to an island which divides the Gardens from the more grown-up Hyde Park - Peter's adventures, and how he eventually meets Mamie and the goat, are delightfully illustrated by Arthur Rackham.
Information
Format: Paperback
Pages: 272 pages
Publisher: Wordsworth Editions Ltd
Publication Date: 05/10/1993
ISBN: 9781853261206
Other Formats
Paperback from £4.35
Hardback from £11.25
Free Home Delivery
on all orders
Pick up orders
from local bookshops
Reviews
Showing 1 - 3 of 3 reviews.
Review by gcamp
16/06/2015
This book contains both the classic story "Peter Pan" and the story "Peter Pan in Kensington Gardens." Though I have read "Peter Pan" before and thoroughly enjoyed it, for some reason in this reading, I came away with a sense of sadness at the end of the story. This may be due to the fact that Peter Pan does not stay with Wendy, and often times forgets to come back to visit her, but also to the fact that we are reminded that we must all grow up and lose our innocence. I feel that many of us often look back on our childhood and think about how much simpler it was, and wish we could go back to that time. But we grow up, and life goes on. The characters in "Peter Pan" are so unforgettable. Who can ever forget the sassy little Tinker Bell, the conniving Captain Hook, or the simple Smee? Even though they have their faults, you find yourself sympathizing with them and liking them. I did not find the second story, "Peter in Kensington Gardens" nearly as interesting as "Peter Pan." It is a story about Peter when he is just a toddler, and how he came to live in Kensington Gardens, and learns how to survive from the birds and the fairies. It starts out with Peter flying away from home, but then he forgets how to fly. Perhaps that is why in "Peter Pan" he tells Wendy that we all know how to fly, but we forget how because we "are no longer gay and innocent." One line that really stood out for me in this story was: "There is almost nothing that has such a keen sense of fun as a fallen leaf." When you think about a leaf in autumn and how it sails about and tumbles along, you can almost feel the fun. Maybe we should all sometimes just pretend to be a fallen leaf.
Review by Eilantha_Le_Fay
16/06/2015
When I started reading this book I thought I would love it. It turned out to bore me a lot.I thought neverland would be a magical place where you'd want to go back again and again. But London seemed rather cozier and less deadly (children killing pirates?).Peter isn't a hero, he's just very selfish boy.This book made me believe that Peter Pan is only famous because of Disney. It's very well written and full of creative sillyness, but the fights against the pirates are long and boring and got me sleeping a couple of times.
Review by PolymathicMonkey
16/06/2015
"'You see, Wendy, when the first baby laughed for the first time, its laugh broke into a thousand piecs, and they all went skipping about, and that was the beginning of fairies.'"I had, sadly, never before experienced the true Peter Pan. Only the Disneyfied version. Which I always enjoyed, I mean, who doesn't love the frivolous forever-child and the jealous little pixie fairy? But of course, we all know Disney's track record for authenticity."'Tink,' said Peter amiably, 'this lady says she wishes you were her fairy.'Tinker Bell answered insolently.'What does she say, Peter?'He had to translate. 'She is not very polite. She says you are a great ugly girl, and that she is my fairy.'He tried to argue with Tink. 'You know you can't be my fairy, Tink, because I am an gentleman and you are a lady.'To this Tink replied in these words, 'You silly ass,' and disappeared into the bathroom. 'She is quite a common fairy,' Peter explained apologetically, 'she is called Tinker Bell because she mends the pots and kettles.'"I had no idea that the real Tink was such a terrible little wretch! She's so mean and her language! In a children's story! There were times I would have liked to be able to reach in and swat her for the stuff she did. Even still, she also was managed to be rather entertaining. I mean, imagine, a pretty little fairy, whose catch-phrase appears to be "silly ass"! It made me laugh every time."For a moment the circle of light was broken, and something gave Peter a loving little pinch.'Then tell her,' Wendy begged, 'to put out her light.''She can't put it out. That is about the only thing fairies can't do. It just goes out of itself when she falls asleep, same as the stars.''Then tell her to sleep at once,' John almost ordered.'She can't sleep except when she's sleepy. It is the only other thing fairies can't do.''Seems to me,' growled John, 'these are the only two things worth doing.'Here he got a pinch, but not a loving one."So while I was a little displeased at just how selfish Peter and Tink were, I thought the story was a lot of fun. It's more random chapters of his/their time in Neverland than an actual chronological story, but it's whimsical adventure (and a bit darker than Disney would have you believe), with both lovely sweet notions (such as the first quote) and thoroughly amusing laugh-out-loud bits (such as the other quotes) and the ending was perfectly done.Then we have Peter's original book, Peter Pan in Kensington Gardens. He made his first appearance in Barrie's adult novel [The Little White Bird] in 1902, and then starred in the play of Peter Pan, or The Boy Who Wouldn't Grow Up in 1904. But Barrie didn't turn the play into a novel until 1911 (then titled Peter and Wendy), while he wrote about Kensington Gardens in 1906."He would not eat worms or insects (which thy thought very silly of him), so they brought him bread in their beaks. Thus, when you cry out, 'Greedy! Greedy!' to the bird that flies away with the big crust, you know now that you ought not to do this, for he is very likely taking it to Peter Pan."I actually liked this one better than the other. There's a couple things that contributed to this. One, there was no terribly naughty Tink, and Peter was far more innocent (he's merely 7 days old) so more pleasant. Two, there were no prior experiences with it so no discrepancies between childhood enjoyment and actual story. And then, it is an entirely different story, unique and completely fresh, with all sorts of delightful entertaining tidbits. Plus there are more like two or three stories overlapping and intertwining amongst each other and they're all a bit silly and amusing and fun. I would strongly recommend reading this one!"'O Tony,' she would say with awful respect, 'but the fairies will be so angry!''I dare say,' replied Tony carelessly.'Perhaps,' she said, thrilling, 'Peter Pan will give you a sail in his boat!''I shall make him,' replied Tony; no wonder she was proud of him.But they should not have talked so loudly, for one day they were overheard by a fairy who had been gathering skeleton leaves, from which the little people weave their summer curtains, and after that Tony was a marked boy. They loosened the rails before he sat on them, so that down he came on the back of his head; they tripped him up by catching his bootlace, and bribed the ducks to sink his boat. Nearly all the nasty accidents you meet with in the Gardens occur because the fairies have taken an ill-will to you, and so it behoves you to be careful what you say about them."I really liked both these books, and I'd definitely recommend them to everyone, of all ages. Especially if you find a copy with the nice original illustrations!
Also in the Wordsworth Children's Classics series | View all