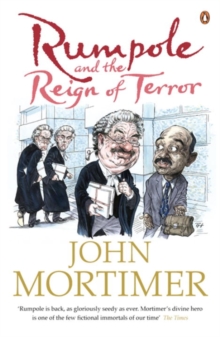 Rumpole and the Reign of Terror
Paperback
Description
Rumpole and the Reign of Terror - a delightful novel starring John Mortimer's iconic barrister'Rumpole, like Jeeves and Sherlock Holmes, is immortal' P.
D James, Mail on Sunday'I thank heaven for small mercies.
The first of these is Rumpole' Clive James, ObserverJustice isn't blind - it's just a little short sighted and weak around the knees ...Just in case Rumpole and the Penge Bungalow Murders gave fans the impression that the Great Defender was resting on his laurels, his new case sends him at full sail into our panicky new world.
Rumpole is asked to defend a Pakistani doctor who has been imprisoned without charge or trial on suspicion of aiding Al Qaeda.
Meanwhile, on the home front, She Who Must Be Obeyed is threatening to share her intimate view of her husband in a tell-all memoir.
The result is Rumpole at his most ironic and indomitable, and John Mortimer at his most entertaining.This hilarious novel will be loved by fans of Rumpole and readers of Sherlock Holmes, P.D.
James and P.G. Wodehouse.Sir John Mortimer was a barrister, playwright and novelist.
His fictional political trilogy of Paradise Postponed, Titmuss Regained and The Sound of Trumpets has recently been republished in Penguin Classics, together with Clinging to the Wreckage and his play A Voyage round My Father.
His most famous creation was the barrister Horace Rumpole, who featured in four novels and around eighty short stories.
His books in Penguin include: The Anti-social Behaviour of Horace Rumpole; The Collected Stories of Rumpole; The First Rumpole Omnibus; Rumpole and the Angel of Death; Rumpole and the Penge Bungalow Murders; Rumpole and the Primrose Path; Rumpole and the Reign of Terror; Rumpole and the Younger Generation; Rumpole at Christmas; Rumpole Rests His Case; The Second Rumpole Omnibus; Forever Rumpole; In Other Words; Quite Honestly and Summer's Lease.
Information
Format: Paperback
Pages: 192 pages
Publisher: Penguin Books Ltd
Publication Date: 05/07/2007
Category: Crime & mystery
ISBN: 9780141025704
Free Home Delivery
on all orders
Pick up orders
from local bookshops
Reviews
Showing 1 - 1 of 1 reviews.
Review by austcrimefiction
16/06/2015
Hilda is writing her memoir, so it's probably just as well that Rumpole doesn't know what she is doing locked away in the boxroom for hours on end. But Rumpole is very busy telling his own story of how he nearly lost his livelihood (aka the Timson family clan), and found himself involved in the new world of Terrorism trials.Despite being extremely concerned about the wherewithal to support both the ongoing requirement for furniture police, Fairy Liquid, scrubbing brushes and Vim alongside his own meagre indulgences in Chateau Thames, Rumpole's sense of justice is outraged by the plight of his client. Dr Mahmood Khan (estranged son-in-law of one of the Timson's) is being held on terrorism charges without the benefit of the details of the crimes with which he has been charged. Rumpole is not at all best pleased by these new terrorism laws, particularly the secrecy aspects and whilst he battles the impossible situation, he is also cunning enough to find a loophole and get his client a proper public trial.Whilst RUMPOLE AND THE REIGN OF TERROR is wonderfully entertaining, and extremely amusing, it also touches on some important Justice issues. Rumpole is fighting the good fight against unfair laws and unreasonable judges. He's also quite prepared to take on anyone in the prosecution - representation or witnesses. For all his bumbling and slightly scruffy regalia, Rumpole has a fine legal mind and he upholds the British Justice System that believes that everyone is entitled to a robust defence - regardless of whether their defending barrister believes in their innocence or guilt.The book is an interesting little outing with Rumpole. Written in a semi-autobiographical style, the story of Rumpole's trial is interspersed with snippets of Hilda's memoir. This gives the book a rather unexpected sort of feel, probably because in the past most of what you hear from Hilda is short, sharp and frequently quite despairing of Rumpole's latest activities. There's still quite a bit of that in Hilda's reminiscences, but there's also reflections on married life, friends and quite oddly, her friendship with (well sort of courtship by) Mr Justice Leonard Bullingham (aka Mad Bull). Giving Hilda a voice adds a little to the bulk of the book, but doesn't really distract from Rumpole in all his glory. Full of mumblings, mutterings, and clever contortions, this is Rumple at his most entertaining, telling a tale which actually has some important points to make.