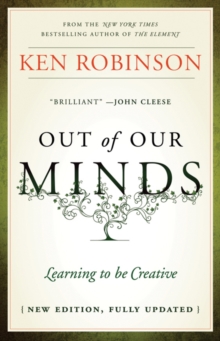 Out of Our Minds - Learning to Be Creative 2E
Hardback
Description
"It is often said that education and training are the keys to the future.
They are, but a key can be turned in two directions.
Turn it one way andyou lock resources away, even from those they belong to.
Turn it the otherway and you release resources and give people back to themselves.
To realizeour true creative potential in our organizations, in our schools and in our communities we need to think differently about ourselves and to actdifferently towards each other.
We must learn to be creative." Ken Robinson PRAISE FOR OUT OF OUR MINDS "Ken Robinson writes brilliantly about the different ways in which creativity is undervalued and ignored ...especially in our educational systems." John Cleese "Out of Our Minds explains why being creative in today'sworld is a vital necessity.
This book is not to be missed." Ken Blanchard, co-author of The One-minute Manager and The Secret "If ever there was a time when creativity was necessary for the survival andgrowth of any organization, it is now.
This book, more than any other I know, providesimportant insights on how leaders can evoke and sustain those creative juices."Warren Bennis, Distinguished Professor of Business, University of Southern California; Thomas S.
Murphy Distinguished Rresearch Fellow, Harvard Business School; Best-selling Author, Geeks and Geezers "All corporate leaders should read this book." Richard Scase, Author and Business Forecaster "This really is a remarkable book.
It does for human resources what Rachel Carson's Silent Spring did for the environment." Wally Olins, Founder, Wolff-olins "Books about creativity are not always creative.
Ken Robinson's is a welcome exception" Mihaly Csikszentmihalyi, c.s. and d.j. Davidson Professor of Psychology, Claremont Graduate University; Director, Quality of Life Research Center; Best-selling Author, Flow "The best analysis I've seen of the disjunction between the kinds of intelligence that we have traditionally honored in schools and the kinds ofcreativity that we need today in our organizations and our society." Howard Gardner, a. hobbs professor in cognition and education, Harvard Graduate School of Education, Best-selling Author, Frames of Mind
Information
Format: Hardback
Pages: 352 pages
Publisher: John Wiley and Sons Ltd
Publication Date: 04/03/2011
Category: Cognition & cognitive psychology
ISBN: 9781907312472
Free Home Delivery
on all orders
Pick up orders
from local bookshops
Reviews
Showing 1 - 3 of 3 reviews.
Review by JerryColonna
16/06/2015
I loved Ken Robinson's Ted talks and so read and enjoyed The Element.Out Of Our Minds is less directly relevant to the work of finding your passion but is, like so much of what Robinson does, thought-provoking, funny, and erudite.I found myself learning so much.Two things in particular leap out...the first is a great quote from Socrates Robinson shares in speaking about the problems in education today. Socrates: Education is the kindling of a flame, not the filling of a vessel. And my first thought? Yup..so is Leadership.The second is an incredible chapter called Knowing and Feeling which, essentially, gives the neurological and intellectual basis for the the split between thinking and sensing that's dominated (and wrecked havoc with the self esteem of) so many Westerners."I think therefore I am." As Robert Witkin pointed out, an equally powerful starting point would have been, "I feel therefore I am."13 Feelings are a constant dimension of human consciousness. To be is to feel." (p. 183). John Wiley and Sons. Kindle Edition. To which I instinctively add, "I am therefore I think and feel."
Review by mitchellray
16/06/2015
There are three themes running throughout Ken Robinson's "Out of Our Minds":1.We are living in revolutionary times.2.To survive and flourish in these times of change we must think differently about our abilities and make best use of them.3.We need to operate our organizations in radically different ways than we are presently.The key to addressing these themes, according to Robinson, is creativity. While Robinson argues that everyone has the capacity to be creative, our current educational system and workplaces stifle creative expression. Robinson delineates the problems within our schools and organizations and then prescribes how we may deal with them. He outlines how we need to rethink education and how to exercise creative leadership to redesign our corporations. This is not a detailed how-to manual. Robinson aims to convince us of the need to creatively deal with the challenges of society and to map out an approach to doing so. The book is worthwhile reading for educators, parents, managers, consultants, policy makers, and anyone else concerned about the future of our society and planet. According to Robinson, it is critical for the future of humanity to extricate ourselves from the outmoded paradigms of the past. To do so, we each must claim our inherent creative capacities and unite in addressing the twenty-first century challenges of concern to all of us.
Review by debnance
16/06/2015
What we need, says education expert Sir Ken Robinson, is not more education or more training; instead, Robinson thinks we need to be free to be creative.How to do that is the subject of this book. Along the way, Robinson dispels the myths of creativity, including the overriding myth that creativity is something that only exists in certain individuals.The best part of the book, for me, were the last two chapters where Robinson clearly defines ways for teachers to encourage students to be more creativity.