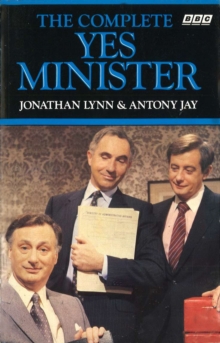 The Complete Yes Minister
Paperback
Description
We have had diaries from other Cabinet Ministers, but none I think which have been quite so illuminating...It is a fascinating diary...It is shorter than Barbara Castle's...and although it is rather more accurate than Dick Crossman's, it is distinctly funnier' - Lord Allen of Abbeydale (formerly Permanent Secretary at the Home Office) in The Times 'It has an entertainment and educational value which is unique.
It is uproariously funny and passes the acid test of becoming more amusing at every subsequent reading...I will go so far as to claim that in the characters of Jim Hacker and Sir Humphrey Appleby, Messrs Lynn and Jay have created something as immortal as P.G.
Wodehouse's Bertie Wooster and Jeeves' - Brian Walden in The Standard
Information
Format: Paperback
Pages: 528 pages
Publisher: Ebury Publishing
Publication Date: 01/06/1989
Category: Humour
ISBN: 9780563206651
Free Home Delivery
on all orders
Pick up orders
from local bookshops
Reviews
Showing 1 - 2 of 2 reviews.
Review by MeditationesMartini
16/06/2015
As a TV show (and I feel me a bit stupid, not only that I didn't read this WHILE working at the Ministry, but that I haven't sought out and sat down with the DVDs of the show, ever) this is pure 5, but as all TV or film adaptions (you see the same thing in JK Rowling, for some reason) do when they try to stick to line-by-line adaption of the dialogue, it suffers a bit, because you can see the strings. They make a valiant effort to take us into Hacker's brain, and it no doubt is super-interesting for longtime fans of the show who are used to seeing it as a little sketch, but the fact remains that it IS a little sketch and when you try to have him explain to the reader why he said this or what he thought when Bernard said that, it doesn't ring true because in fact there was no reason - it was because it was funny, and they were scripted to say absurd stuff because the funny is absurd.That said. If the psychological realism is lacking, the grip on institutional practice is almost frighteningly sound. It ACTUALLY IS like that, with the ministers totally in thrall, except when they make a leviathan roll to achieve or abort something to poltical reasons, to their civil service, and all the way down the line everyone is trying to achieve whatever will cement their position, accrue more power to ministry and office, and provide a plausibe means to feather in cap, whether what they say they did has any relation to what they did or not. Statistics really are ALL MEANINGLESS, and they REALLY DO want it that way, because it you change the metrics year by year you can get them to support anything you might want. They REALLY DO measure success by size and responsibilities, number of "hats" - wastage. It's changed a lot for better and worse, no doubt - the stuff about women is pure unreconstructed the '70s, and there have been twenty years of New Labour/Third Way-typre reforms bringing in people from private sector and making everyone a lot more concerned with self-promotion and less secure. Dear lord, am I saying the modern public service combines the worst of "old government" with the worst of modern politics? Nah. Just that the human capacity for obfuscation in defense of one's own power is infinite, and this is a primer.And it's FUNNY, of course.
Review by Oreillynsf
16/06/2015
The funnier of the two books in my view, as was the TV series on which it was based. While some think of this as dated, I prefer to think of it as a time capsule back to the early 80s when Britain was going through such tremendous political upheaval. The three main characters are superbly developed. The pleasure of the book is in the dialogue, which is so superbly written for each character.