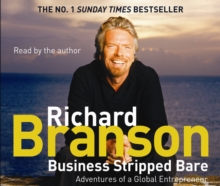 Business Stripped Bare : Adventures of a Global Entrepreneur
CD-Audio
Description
Business Stripped Bare, available as an audiobook narrated by Richard Branson himself. From its creation as a mail-order record company to the literal launch of Virgin Galactic, today Virgin is one of the premier 'way-of-life' brands in the world, trusted and enjoyed by many millions of people. In Business Stripped Bare, Sir Richard Branson shares the inside track on his life in business and reveals the incredible truth about his most risky, brilliant and audacious deals.
Discover why Virgin tried to take on one of the world's biggest superbrands, how Virgin Mobile USA holds the record as the fastest company in history to generate revenues of over one billion dollars (faster than Microsoft, Google and Amazon) and how Richard is the only person in the world to have built eight billion-dollar companies from scratch in eight different sectors. What qualities does Richard look for in the people he hires?
How does he manage a crisis? Who are the entrepreneurs he most admires? Find out the true story behind Virgin Blue's success in Australia, what really happened when Virgin bid for Northern Rock and why Richard believes all businesses must work with governments to tackle climate change and invest in the future of our planet. Combining invaluable advice with the remarkable and candid inside stories of Virgin's greatest achievements, as well as some of its setbacks, Business Stripped Bare is a dynamic, inspirational and truly original guide to success in business and in life.
Whether you are an executive, an entrepreneur or are just starting out, this Richard Branson audiobook strips business down to show how you can succeed and make a difference.
Information
Format: CD-Audio
Publisher: Ebury Publishing
Publication Date: 01/05/2009
Category: Biography: general
ISBN: 9781846572043
Other Formats
Paperback from £8.59
EPUB from £6.49
Free Home Delivery
on all orders
Pick up orders
from local bookshops
Reviews
Showing 1 - 1 of 1 reviews.
Review by DanStratton
16/06/2015
This is the second time I have listened to Sir Richard Branson's book, but the first time I have reviewed it. Richard Branson is a fascinating entrepreneur. Struggling in school, he started a newspaper for students. It quickly grew in popularity to the point he received an offer to sell it. He immediately turned that money into the music business, reselling vinyl albums by mail cheaper than the corner shops. The next logical step was to create a recording studio and begin promoting bands. From there, things continued to grow and grow. The result of his willingness to strike out into areas he knew nothing about became known as the Virgin group of brands.Business Stripped Bare is a look at Branson's business philosophy and brand genius. He shares the story of how he built the brand and why he feels it is successful. He is brash, challenging, energetic and doesn't subscribe to stuffiness on any scale. He believes in keeping businesses as small as possible (100 employees where possible), empowering employees to make decisions and energizing them around the brand.The Virgin Group is one of the largest privately held companies in the world and this inside look at how they approach business is fascinating to me. Branson's easy-going, chatty-style of writing is engaging. He provides story after story demonstrating his core beliefs on building a business. More than most business books, I found the advice useful and entertaining. While not a step-by-step manual, he covers the more intangible aspects of success, such as keeping employees engaged, dreaming big, where to never compromise, how to recognize and capitalize on opportunity and how to learn from mistakes.There are few global business leaders I would like to meet. Branson is one whom I would. Judging from his writing style, I think I would l even be comfortable talking with him. Perhaps this book is ghost written, but the style matches what I have read about him in the news. He seems like a normal guy who made it big. He isn't afraid to let it all hang out on the line in promotion of the company, even if it means bungee jumping from a helicopter or showing up naked to a product release. He does things on his terms and no one else's. He believes in his people and is relentless in the pursuit of of perfection for the customer service and safety.One thing I took away from his book is the importance of constant observation. He carries a notebook with him everywhere he goes and writes down every observation. Everything from worn carpet on a plane, salt shakers on trains to ideas for improving cell phone offerings go into the book for review and implementation. He prides on Virgin's ability to rapidly adapt and execute change quickly to meet customer needs and expectations. I believe they are richly rewarded for this attention to detail. There is a lot to be learned from his approach.Business Stripped Bare: Adventures of a Global Entrepreneur is a book every entrepreneur should read and reread. I believe his advice to be sound and immediately adaptable to any size business. I am attempting to implement as much as possible within my own company, even though it is far from entrepreneurial. Of course, I also try to apply it to the virgin brand of my own. If I have even a half a grain as much success as he has, I'll be satisfied.