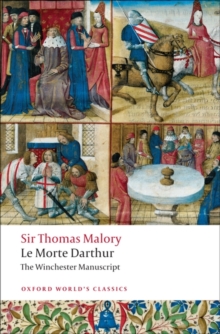 Le Morte Darthur : The Winchester Manuscript
Paperback
Description
The definitive English version of the stories of King Arthur, Le Morte Darthur was completed in 1469-70 by Sir Thomas Malory, 'knight-prisoner'. In a resonant prose style, Malory charts the tragic disintegration of the fellowship of the Round Table, destroyed from within by warring factions. Recounting the life of King Arthur, the knightly exploits of Sir Lancelot du Lake, Sir Tristram, Sir Gawain, and the quest for the Holy Grail, Le Morte Darthur depicts the contradictions that underscore the Fellowship's chivalric ideals.
A pervading tension cumulates in the revelation of Lancelot and Guenivere's illicit passion, and in Arthur's powerlessness to prevent a related outbreak of violence and revenge.
This generously annotated edition is based on the authoritative Winchester manuscript and represents what Malory wrote more closely than the first version printed by William Caxton.
Intelligently abridged from the original to make a single substantial volume, the translation is supplemented by a fine Introduction, a Glossary, and extensive Notes ABOUT THE SERIES: For over 100 years Oxford World's Classics has made available the widest range of literature from around the globe. Each affordable volume reflects Oxford's commitment to scholarship, providing the most accurate text plus a wealth of other valuable features, including expert introductions by leading authorities, helpful notes to clarify the text, up-to-date bibliographies for further study, and much more.
Information
Format: Paperback
Pages: 624 pages
Publisher: Oxford University Press
Publication Date: 01/12/2009
Category: Myth & legend told as fiction
ISBN: 9780199537341
Free Home Delivery
on all orders
Pick up orders
from local bookshops
Reviews
Showing 1 - 3 of 3 reviews.
Review by VivalaErin
16/06/2015
Arthurian legends have always piqued my interest. I've learned a lot from studying them, the least of which that the stories are incredibly old. Malory's Winchester Manuscript is the most comprehensive version - from an English author. All the stories of Arthur's knights are here, and I certainly have my favorites: Gareth first! Malory's writing is quite dense, and it takes a while to get used to his 15th century technique. However, once you get into the text you will fall in love. He writes beautifully, and this will always be a part of my library. If you're looking for even older Arthurian stories - search in Wales and France.
Review by rolandallnach
16/06/2015
I ventured into this version of Malory to fulfill something that had held my curiosity over the years, namely the common source of the Arthurian legends. And while some of the legends in Malory have their roots outside of England, it was Malory who brought the whole thing together into one collective tale. As a result reading this may be somewhat cumbersome, particularly for those who are not accustomed to the language of the period. The text in this edition is well prepared and the preface denotes a certain amount of editing to shorten certain scenes, which is helpful, as Malory does have an inclination toward repetitive scenes. Reading Malory was indeed enlightening, as my knowledge of Arthurian legend was limited to common facets of the tales and the pieces that were highlighted in the film adaptation "Excalibur", a great movie in its own right, but a decided interpretative take, stressing a certain line of the legends (as do all the films concerning Camelot). I found it helpful, and fascinating, to map out a geneaology and relationship tree as I read Malory, as some characters spring in and out of the narrative with large gaps between. I found the latter part of Malory most satisfying, as the legend moves to the grand tragedy that is the epic confrontation between Arthur and Lancelot, and then Arthur and Mordred. For those considering a venture into Malory, I would strongly recommend following it up with a read of Tennyson's 'Idylls of the King', which has its own focus on the legend, and looks at it from quite a different perspective. Either way, Malory is a classic, as his prose still reads well to this day, and its resonance through literature is undeniable.
Review by shanaqui
16/06/2015
I'm so glad I finally read Le Morte Darthur. I've loved the King Arthur stories ever since I was little and read what I think was a retelling by Enid Blyton. I actually read this for my Late Medieval Literature class, but I'd have read it someday anyway. The copy I read was an abridgement, which is probably a good thing as parts of it got quite tedious as it was. The introduction to this version is pretty interesting -- and, by the way, my lectures on it were wonderful.<br/><br/>I subscribe to the view that this is not necessarily intended to be a novel in the modern sense. The tales are too repetitive in parts and each can stand alone. I do agree that they're all related to each other, though. Throughout the course of the book, the tales get better and more lovingly written, I think. I do suspect Sir Thomas Malory would rather like to have married Lancelot on the astral plane. It's odd to notice how much of a stinking liar Lancelot is, and yet the text makes no judgement on him at all for that. I'm aware of the public honour system's part in that, but still...<br/><br/>I'm not sure one can say anything new on this text that hasn't been said, to be honest. I loved it, and if you're into King Arthur and you don't mind a bit of a challenge, I suggest you go for it.<br/><br/>Hic iacet Arthurus, rex quondam rexque futurus.<br/><br/>(Because in some secret part of my heart, I believe that one day King Arthur will come again.)
Also in the Oxford World's Classics series | View all