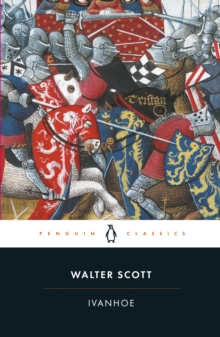 Description
IVANHOE (1819) was the first of Scott's novels to adopt a purely English subject and was also his first attempt to combine history and romance, which later influenced Victorian medievalism.
Set at the time of the Norman Conquest, Ivanhoe returns from the Crusades to claim his inheritance and the love of Rowena and becomes involved in the struggle between Richard Coeur de Lion and his Norman brother John. The gripping narrative is structured by a series of conflicts: Saxon versus Norman, Christian versus Jew, men versus women, played out against Scott's unflinching moral realism.
Information
Format: Paperback
Pages: 544 pages
Publisher: Penguin Books Ltd
Publication Date: 30/03/2000
Category: Classic fiction (pre c 1945)
ISBN: 9780140436587
Other Formats
Paperback from £2.50
Hardback from £13.85
EPUB from £0.99
eAudiobook MP3 from £5.59
CD-Audio from £8.59
Free Home Delivery
on all orders
Pick up orders
from local bookshops
Reviews
Showing 1 - 5 of 10 reviews.
Previous | Next
Review by sisterbooks
16/06/2015
An epic tale not for the faint of heart. A very good soap opera told in Medieval times. Ivanhoe is a hero you love to hate, but the book is redeemed by an exciting love triangle created by the real heroine of the story, Rebecca.
Review by thorold
16/06/2015
Ivanhoe is one of those books that is so much a part of our culture it's almost redundant to read it, like David Copperfield, The great Gatsby, or whatever. Every book, film, or TV series of the last 190 years that has anything to do with medieval England, knights, jousting, castles, Templars, crusaders, Robin Hood, Richard Coeur de Lion, or whatever has to engage in some way with Ivanhoe: whether it builds on Scott's version of the events or debunks it. Picking holes is easy. Scott rearranged historical events to match his story, and generally used whatever interesting ideas he could pick up from medieval and antiquarian texts, without worrying too much about which century they referred to. But that's hardly the point: it's a glorious romp through medieval England, and we're there to enjoy ourselves, not to be pedantic. Knights are bold, Normans nasty, priests devious, and Robin Hood and his men are prepared to take on all comers if there's the chance of a good fight followed by a feast under the trysting tree. Volume one has a tournament as its climax; in volume two the evil baron's castle is besieged; and in volume three there is a trial by combat. What more could you want from a story?Scott's technique is rather Shakespearean - the "important" characters come on with a flourish of trumpets and do their stuff, but it's only in their dialogues with minor characters that we really get to know them. Ivanhoe himself is rather elusive as a hero - we only meet him rather briefly at the beginning and end of the book, and he's unconscious for just about the whole of volume two. The swineherd Gurth, the jester Wamba, and the superb Friar Tuck are the really interesting, memorable characters, who help us to work through the moral dilemmas of the plot. What's surprising about the book, if we remember it as just an adventure story, is that there are real moral dilemmas confronting the characters. Even in the trial scene, where the reader might expect little more than a show trial, Scott gives free rein to his inner lawyer, and we work systematically through the legal basis for the trial, the motivations of accuser and accused, and the testimonies of the witnesses. Even though we know the result has been pre-cooked, all the characters involved are reminded that they have a moral choice to make. This also comes out strikingly in the relations between the two women and their abductors. Neither de Bracy nor de Bois-Guilbert is quite sure what to do next when the maiden he has captured puts up a spirited resistance: we get to see the situation from the villains' point of view for a little bit and even feel sorry for them when they try to repent their crimes and win the hearts of their victims.An underlying theme of the whole book is the "Norman Yoke" idea: England in the 12th century still feels like an occupied country. The language divide is foregrounded to draw our attention to this. In the opening sequence, Wamba reminds us that Saxon pigs, sheep and cows become Norman pork, mutton and beef when they end up on someone else's plate. Scott probably wasn't aware that these distinctions only became firmly established in the 18th century, but it's an effective and memorable image. Cedric, the crusty Saxon thane who refuses to speak French or even move more than three steps from his table to greet a Norman guest, is a dignified but faintly ridiculous symbol of the old ways - Scott was surely thinking of the Scottish chieftains he depicts in his earlier Jacobite novels, refusing to acknowledge the Hannoverians and drinking to the king "over the water".Uncomfortable for the modern reader is Scott's treatment of the Jewish characters, Isaac and Rebecca. Rebecca is great, a feisty heroine who gains independence and self-sufficiency from her exclusion from English society (apart from herself, the Jewish community in Ivanhoe consists exclusively of old men). Isaac, however, comes over as someone who has stepped straight out of The merchant of Venice. Scott goes to some lengths to present them as human beings with normal human motives and emotions ("Hath not a Jew eyes...?"), and to show us that the prejudices of the time against Jews are either unfounded or self-fulfilling (e.g. Jews that are seen as miserly because the only profession we allow them to follow is banking). However, he clearly doesn't like Jews himself, and reinforces the stereotypes in between undermining them.As Thackeray, and many others since, have said, we feel at the end of the book that Ivanhoe married the wrong girl. Rebecca was probably well out of it - it's nice to imagine that she will meet someone more interesting and intelligent than the Silent Knight in the livelier atmosphere of Moorish Spain. Thackeray, of course, kills off Rowena in his sequel, and has Rebecca convert to Christianity so that she can marry Ivanhoe.
Review by LisaMaria_C
16/06/2015
There was a time when Walter Scott was seen as <i>the</i> great novelist of his age--far superior to Jane Austen. Donizetti used one of Scott's novels for the basis of <i>Lucia de Lammermoor.</i> Mark Twain decried Scott's influence on Southern American culture with his "sham chivalries" Twain blamed for the American Civil War. Well, these days while Austen is triumphant, hardly anyone reads Scott anymore. <i>Ivanhoe</i> is the novel you'd most likely still find on shelves, its readership possibly kept alive by the film adaptations. While I wouldn't reverse the judgement of history--Austen is one of my favorite authors and in comparison Scott feels shallow--I did find this great fun when I discovered this in my teens. The history part of the historical fiction? Well, there are lots of ahistorical and anachronistic touches. By the time of King Richard I, I doubt the Anglo Saxons still kept a distinctive culture or dreamed of ever ousting the Normans, or even thought of the Plantagenets as a foreign dynasty. (Even if Richard the Lionheart didn't speak English or spend much of his reign in England.) And Robin Hood is legend, not history. I'd also say that the main characters we're supposed to be most enamored with--Ivanhoe and Rowena--seem rather bland to me. But ah, then there's Rebecca! Although one could see some anti-Semitic stereotypes in her father Isaac, if for nothing else, Scott should be given credit for creating such a strong, appealing Jewish heroine at a time when Anti-semitism was still rampant in English fiction. And I love the villain, Brian Bois-Guilbert, who isn't painted completely black but has, shall we say, some interesting qualities. And well, it's simply fun to read this--not in my opinion dry at all. It's a fun romp through history--as long as you don't ask it to be too historical.
Review by MarysGirl
16/06/2015
I couldn't remember if I had read this years ago or was remembering the movie. In any case, this was a fun read. The story is exciting with many of our favorite folk heroes - King Richard the Lion-Hearted, Robin Hood, Friar Tuck - shown in their most favorable light. The titular character actually spends a lot of the book flat on his back. What I enjoyed most about the book is the language and style. This first came out in 1820 and the prose style is delightfully archaic. Scott shows deep insight into human psyche, sharply drawing his characters, poking fun at hypocrisy and pomposity, and sympathetically portraying the humanity of the less fortunate.
Review by bhenry11
16/06/2015
My version of this book was abridged for a middle-school audience, and published in 1936 as part of the Heath Golden Key Series. That said, it was still 464 pages long and written in early 19th-century English purporting to be Middle English. What that means is that it sometimes takes Scott three paragraphs or longer to have a character say "No thank you, I'm not hungry." Ivanhoe is a stupendous work of historical fiction, mixing the best romantic chivalrous pursuits of knights, fair maidens, and swashbuckling peasants and outlaws with double-crosses and villainy straight out of an Errol Flynn movie (until you realize that Hollywood in all likelihood stole their greatest plot devices from Scott and the rest of the canon). It's a love story full of virtue, love, friendship, trust in combat, ambition, and, most unsettling, anti-semitism. In fact, it was very hard for me to get past the rampant anti-semitism in the writing and dialogue, even between the good guys (Richard the Lion-hearted, Robin Hood, and Ivanhoe).The story gets a little weak towards the conclusion — the fate of Athelstane comes to mind, as does the unsatisfying end to Brian de Bois-Guilbert, the Knight Templar — but that's okay. It's a page-turner of a classic, full of funny-named helpers (Gurth, Wamba), knights in disguise, and virtuous women.Recommended.