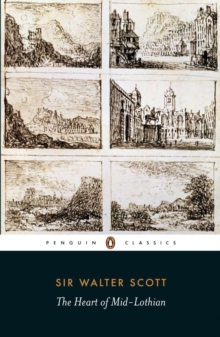 The Heart of Mid-Lothian
Paperback
Description
Jeanie Deans, a dairymaid, decides she must walk to London to gain an audience with the Queen.
Her sister is to be executed for infanticide and, while refusing to lie to help her case, Jeanie is desperate for a reprieve.
Set in the 1730s in a Scotland uneasily united with England, The Heart of Mid-Lothian dramatizes different kinds of justice - that meted out by the Edinburgh mob in the lynching of Captain Porteous, and that encountered by a terrified young girl suspected of killing her baby.
Based on an anonymous letter Scot received in 1817, this is the seventh and finest of Scott's 'Waverley' novels.
It was an international bestseller and inspired succeeding novelists from Balzac to George Eliot.
Information
Format: Paperback
Pages: 864 pages, facsimiles
Publisher: Penguin Books Ltd
Publication Date: 25/08/1994
Category: Classic fiction (pre c 1945)
ISBN: 9780140431292
Other Formats
Hardback from £16.55
Paperback / softback from £11.39
Free Home Delivery
on all orders
Pick up orders
from local bookshops
Reviews
Showing 1 - 1 of 1 reviews.
Review by thorold
16/06/2015
All sorts of critics describe this as Scott's masterpiece: I wouldn't argue with that. By taking a working class woman as his central character, he avoids the "vacuum at the centre" we get in more conventional adventure stories. The Scottish criminal law and the city of Edinburgh put Scott on his favourite ground; 1735, with the cement of the Act of Union still setting and the religious struggles of the last century still in living memory, is also pretty much the ideal historical moment for him.Of course, there is much a modern reader would quibble with: although the story gets going much faster than some of his others, we do have to put up with a certain amount of slow-moving (but vital) back-story in the early chapters, and the ending takes far longer to tie up all the threads than it might (and there's a shade too much poetic justice handed out). The Duke of Argyle and the sinister gypsy woman make rather one-dimensional good and bad fairy godmothers. Scott being Scott, the characters do occasionally forget themselves and start talking like books. We can put up with the little imperfections, though, because there is so much treasure in between. Jeanie and her old Covenanter father are simply wonderful characters; there are a couple of splendid comic lairds of the best sort; Scott guides us though the complicated legal and religious problems that drive the plot with unobtrusive expert knowledge. Reflecting on the book with hindsight, the really clever thing Scott has done is to tell the story mostly from Jeanie's point of view, sidelining Effie and her lover, who might have been the obvious central characters in a romantic adventure story. They have a passionate love affair, rob, murder, make thrilling clandestine journeys, disguise their identities, etc. - <i>and it all happens offstage</i>. We see their whole romantic career though the eyes of the people who have to clear up the mess. When Jeanie embarks on her epic journey to London, Scott makes us see that what is remarkable about her is the absolute conviction that she is doing the right thing and will succeed. We may think her naive; another writer might have treated the whole affair with a bit more irony and thrown more obstacles in her way; but Scott accomplishes the difficult task of making a wholly virtuous character three dimensional and interesting enough to carry a whole book without becoming either nauseating or tedious. Not a lot of people can do that.