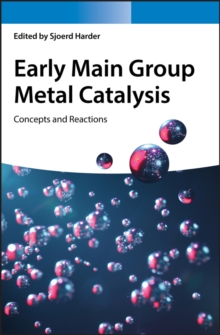 Early Main Group Metal Catalysis : Concepts and Reactions
Hardback
Description
Early Main Group Metal Catalysis gives a comprehensive overview of catalytic reactions in the presence of group 1 and group 2 metals.
Chapters are ordered to reaction type, contain educational elements and deal with concepts illustrated by examples that cover the main developments.
After a short introduction on polar organometallic chemistry and synthesis of early main group metal complexes, a variety of catalytic reactions are described, e.g. polymerization of alkenes, hydroamination and phosphination reactions, hydrosilylation, hydroboration and hydrogenation catalysis, as well as enantioselective and Lewis-acid catalysis.
The book addresses organic chemists and researchers in industry interested in the state-of-the-art and new possibilities of early main group metal catalysis as well as newcomers to the field.
Written by a team of leaders in the field, it is a very welcome addition to the area of main group metal chemistry, and to the field of catalysis.
Information
Format: Hardback
Pages: 400 pages
Publisher: Wiley-VCH Verlag GmbH
Publication Date: 05/02/2020
Category: Organometallic chemistry
ISBN: 9783527344482