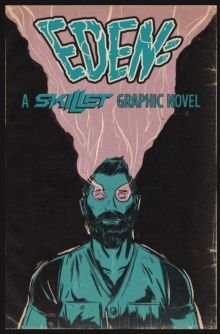 Eden:A Skillet Graphic Novel
Paperback / softback
Description
John and Korey dreamt of a door to paradise, and the zealots claimed thismeant they must lead them there.
John and Korey refused- they had children toraise, and a town to protect from beasts outside its gates. And so the zealotsstole the machine that protected them all, leading to the slaughter of dozens. Now John and Korey hunt them across the barren highways and crumblingskyscrapers of the future.
Joined by ex-soldier Seth and cyborg Jen, they aredrawn towards either death or salvation... for the truth of their dream willlead them to the secrets of Eden.
Written by John Cooper lead singer of SkilletEden is a tale of redemption and finding light in the darkness.
Information
Format: Paperback / softback
Pages: 144 pages
Publisher: Z2 comics
Publication Date: 10/09/2019
Category: Science fiction
ISBN: 9781940878294
Free Home Delivery
on all orders
Pick up orders
from local bookshops