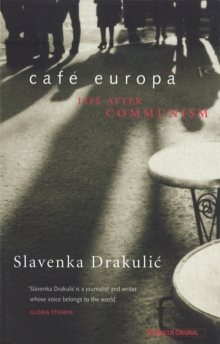 Cafe Europa : Life After Communism
Paperback
Description
Europe is still a divided continent. In the place of a fallen Berlin wall, there is a chasm between the East and the West.
Are these differences a communist legacy, or do they run even deeper?
What divides us today? To say simply that it is the understanding of the past, or a different concept of time, is not enough.
But a visitor to this part of the world will soon discover that we, the Eastern Europeans, live in another time zone.
We live in the twentieth century, but at the same time we inhabit a past full of myths and fairy tales, of blood and national belonging, and the fact that most people are lying and cheating or that they have the habit of blaming others for every failure...' An intimate tour of life on the streets of Budapest, Tirana, Warsaw and Zagreb, as those cities continue to acclimatise to the post-Communist thaw, Cafe Europa does not provide easy solutions or furnish political pallatives.
Rather as a Croatian with a viewpoint of ever-widening relevance, the value of Slavenka Drakulic's wry and humane observations lie in the emotional force of their honesty and the clarity of their insight...
Information
Format: Paperback
Pages: 224 pages
Publisher: Little, Brown Book Group
Publication Date: 10/10/1996
Category: International relations
ISBN: 9780349107295
Free Home Delivery
on all orders
Pick up orders
from local bookshops
Reviews
Showing 1 - 1 of 1 reviews.
Review by deebee1
16/06/2015
A collection of the author's observations and reflections about daily life in the early post-Communist days in several Eastern European countries. The snippets give us a down-to-earth version of the impact of the transition on ordinary people's lives, mainly the cultural adjustment they confronted in a new so-called democracy. The title refers to the ubiquitous Cafe Europa one finds in every city and town in Eastern Europe that imitates in, according to her, rather very bad taste similarly named cafes in sophisticated Paris, Rome and the like. She portrays this as simply representing the almost pathological anxiety of ordinary people to overcome the deprivations of their past. Some articles tend toward some materialistic babble -- for example, her envy, when she travels, of other people who have "perfect" teeth, who have "better" quality stuff, and equating this with self-respect and independence from shoddy state-sponsored services and institutions. I find her also a bit hypocritical when she mentions the indignity and anger she feels when in international forums, she is classed or identified mainly as "an Eastern European" author, and not recognized as simply a writer free from any association of having lived through "the regime." I find disconcerting her going back again and again to lack or absence of toilet paper (in Romania mainly) as emblematic of the failure of these governments to learn the basics of democracy. While she writes with humor and frankness, the book fell short of my expectations. I found her analysis too simplistic, and her reflections lacking depth. I thought it strange that she could make sweeping conclusions about these societies, including her own, based on a few random incidents and experiences. These societies were undergoing transformation (the book was published in 1999), and unlearning the habits of decades of closed rule take time, and expectedly not without pain. It doesn't mean either that adopting "capitalist" behaviour and customs is always right or the superior path, although this is what she seems to underline throughout. She is a journalist, so perhaps I was looking for more journalistic type of writing, with critical analysis (not mere criticisms, as she did here) and more insightful views, which were not evident in this book.