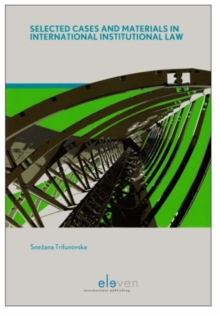 Selected Documents and Cases in International Institutional Law
Paperback / softback
Description
The selection includes basic documents and cases of International Institutional Law and is prepared primarily as a tool to assist students and others interested in the field in their study and work.
The documents included provide information and enable study and discussion on the main questions of International Institutional Law such as membership, internal structure, powers, dispute settlement, decision-making, responsibility and financing.
The book consists of two main parts. Part One contains constituent documents of a number of international public organizations (UN, ILO, NATO, OSCE, EU, WTO) selected either because of their representativeness or uniqueness of their institutional aspects.
It also includes some general documents on international organizations and more specific ones, such as the statutes of administrative tribunals.
Part Two includes a selection of judicial cases considered by international (ICJ, ICTY), regional (ECtHR, ECJ) and national courts (Dutch, UK).
Information
Format: Paperback / softback
Pages: 740 pages
Publisher: Eleven International Publishing
Publication Date: 30/09/2013
Category: Public international law
ISBN: 9789462360822