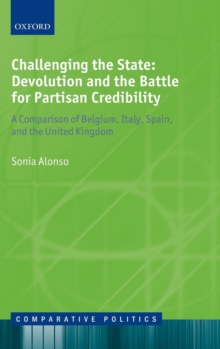 Challenging the State: Devolution and the Battle for Partisan Credibility : A Comparison of Belgium, Italy, Spain, and the United Kingdom
Hardback
Description
How do state parties react to the challenge of peripheral parties demanding political power to be devolved to their culturally distinct territories?
Is devolution the best response to these demands? Why do national governments implement devolution given the high risk that devolution will encourage peripheral parties to demand ever more devolved powers?
The aim of this book is to answer these questions through a comparative analysis of devolution in four Europeancountries: Belgium, Italy, Spain, and the United Kingdom.
The author argues that electoral competition between state and peripheral parties pushes some state parties to prefer devolution at some particular point in time.
Devolution is an electoral strategy adopted in order to make it more difficult inthe long term for peripheral parties to increase their electoral support by claiming the monopoly of representation of the peripheral territory and the people in it.
The strategy of devolution is preferred over short-term tactics of convergence towards the peripheral programmatic agenda because the pro-periphery tactics of state parties in unitary centralised states are not credible in the eyes of voters.
The price that state parties pay for making their electoral tactics credible is the'entrenchment' of the devolution programmatic agenda in the electoral arena.
The final implication of this argument is that in democratic systems devolution is not a decision to protect the state from the secessionist threat.
It is, instead, a decision by state parties to protect their needed electoralmajorities. Comparative Politics is a series for students, teachers, and researchers of political science that deals with contemporary government and politics.
Global in scope, books in the series are characterised by a stress on comparative analysis and strong methodological rigour.
The series is published in association with the European Consortium for Political Research.
For more information visit: www.ecprnet.eu. The Comparative Politics series is edited by Professor David M. Farrell, School of Politics and International Relations, University College Dublin, Kenneth Carty, Professor of Political Science, University of British Columbia, and Professor Dirk Berg-Schlosser, Institute of Political Science, Philipps University, Marburg.
Information
Format: Hardback
Pages: 278 pages
Publisher: Oxford University Press
Publication Date: 19/04/2012
Category: Comparative politics
ISBN: 9780199691579
Free Home Delivery
on all orders
Pick up orders
from local bookshops
Also in the Comparative Politics series | View all