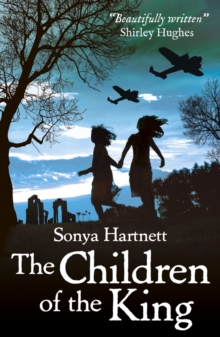 The Children of the King
Paperback
Description
A hauntingly beautiful wartime story with a ghostly twist - this is set to become a modern classic.
It's the Second World War and, with London becoming an increasingly dangerous place to live, the Lockwood children are whisked away to the Heron Hall, to stay with their Uncle Peregrine in the countryside.
But when they discover two strange boys hiding in a nearby derelict castle, the past and present collide.
Those in the present will need to learn from the troubles of the past.
Information
Format: Paperback
Pages: 272 pages
Publisher: Scholastic
Publication Date: 04/09/2014
Category: General
ISBN: 9781407143576
Other Formats
Hardback from £9.89
EPUB from £5.99
Free Home Delivery
on all orders
Pick up orders
from local bookshops
Reviews
Showing 1 - 1 of 1 reviews.
Review by Goldengrove
27/08/2015
The Children of the King is a lovely book, very much in the tradition of English children's literature, with some beautiful writing. Sonya Hartnett doesn't fall into the trap of feeling 'old fashioned' as she uses modern language, but still manages to evoke the right sort of atmosphere for the 1930s.The protagonist is an awkward little girl, not pretty (although her father loves her, and always tells her that she is lovely), and not very clever. When she and her elder brother go with their mother to stay with their uncle in the country, Cecily insists that they must take one of the evacuees who travel on the same train.Her motives are not wholly altruistic; she wants a girl that she can 'run', and she is both patronising and insensitive towards May. May, however, is very self-possessed and intelligent, and things don't work out quite as Cecily had envisaged.Cecily is an interesting character, and the reader veers between feeling sorry for her because of her transparency and awkwardness, and thinking that she is rather awful with her attempts to show off and to dominate May. Her brother Jeremy is more remote, and there is a pleasing gap between what he understands, what Cecily mostly doesn't understand, and what the reader can understand through the narration.The plot of the book takes off nice and quickly, as the children are rushed away from London, pick up May, and start to explore the countryside. The two boys that May finds in the ruined castle are strange, and not particularly likeable. Cecily can't work out what she finds disturbing about them until "…a thought occurred to her. Their luxurious clothing had reminded her of something, and now she remembered what it was. A pantomime: those boys had been dressed like characters on the stage."Once Uncle Peregrine begins to tell the children the true story of the castle, the two tales become intertwined and the reader begins to see what the answer to the mystery might be.It is an unusual and engaging story, with nicely challenging language, some really beautiful turns of phrase, and sharp little character delineations. The chapters often begin and end with lovely little pictures:"She folded her eyes and tried to sleep. The afternoon sun threw flares into the blackness of her closed eyes. Heloise turned a book's pages, Jeremy scratched the varnish on the windowsill. The train made a heavy rushing sound like a bull charging through shoulder-height grass. It hauled the children north, away from the menace of bombs, across squarely fenced countryside with its tidy woods and glossy fields and into a soundless place beyond it, where a white sky hung greatly over a silver land."I found the ending just a little rushed, but I don't think that is spoils the book.