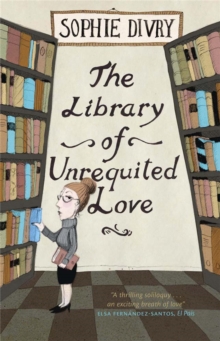 The Library of Unrequited Love
Paperback
Description
One morning a librarian finds a reader who has been locked in overnight.
She begins to talk to him, a one-way conversation full of sharp insight and quiet outrage.
As she rails against snobbish senior colleagues, an ungrateful and ignorant public, the strictures of the Dewey Decimal System and the sinister expansionist conspiracies of the books themselves, two things shine through: her unrequited passion for a researcher named Martin, and an ardent and absolute love for the arts.
A delightful divertissement for the discerning bookworm...
Information
Format: Paperback
Pages: 96 pages
Publisher: Quercus Publishing
Publication Date: 02/01/2014
ISBN: 9781780870519
Free Home Delivery
on all orders
Pick up orders
from local bookshops
Reviews
Showing 1 - 3 of 3 reviews.
Review by AnneBrooke
16/06/2015
This is an interesting concept - a brief novella which is purely and simply a diatribe from a downtrodden but ultimately rebellious librarian. It's a brave book therefore, but it's let down by the sheer lack of paragraphs and the sense of well-trodden cliche that hovers over the first half to three-quarters of the story.The lack of paragraphs gave me a feeling of being trapped inside the book - which is of course the feeling the librarian in her library room has, but even she pauses to pursue other trains of thought. Paragraphs at those sections would have been useful to the reader.The cliche of course is obvious: a love-sick librarian with a secret passion for an unobtainable student and a series of deep-set grudges to reveal, and there were times when the cliche was simply overwhelming and I thought about giving up. Even in a book with a mere 96 pages. However, the last five or six pages are simply brilliant and well worth ploughing through the first 90 or so to get there - the ending is a tour de force of surreal and bitter brilliance, and I only wish this sort of writing had started a lot earlier on.
Review by elliepotten
16/06/2015
Hmmm. This book was okay - basically a librarian monologuing to a guy who's accidentally been locked in the basement all night, filling in the time until the library opens and he can leave - with some interesting thoughts on library culture and life in general, but ultimately I think it's going to prove very rapidly forgettable. I'm glad I got it from the library instead of shelling out £7 to buy it!
Review by nina.jon
16/06/2015
Like many others, I read this from cover to cover in a single go. It only took a couple of hours. The plot as such, involves a librarian talking non-stop at a trapped reader. Unable to escape he (or she – for we don't learn which) can only listen.In a stream of consciousness monologue, we are treated to the story of this woman's life, loves, and losses. Life hasn't been particularly kind to this woman. It's rather overlooked her. She's slightly brittle and wary of further disappointment. But she does love books, and not only books. Our narrator has lots of opinions, which she freely shares. For example she doesn't travel, 'because Napoleon has always been there first.'Don't expect much of a plot, it's a vignette. One woman's view on the world she inhabits, where hope burns eternal. Despite it's brevity, and lack of plot, our librarian narrator is quite a fully fleshed character, and I was left hoping everything would all turn out right for her in the end.Nina Jon is the author of the Jane Hetherington's Adventures in Detection crime and mystery series, and – coming soon – The Magpie Murders.
Also by Sophie Divry