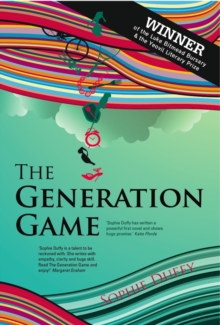 The Generation Game
Paperback
Description
'Very powerful writing. Sophie draws her reader in immediately and combines wit and poignancy to very powerful effect...
Excellent.' --Katie Fforde'This is a beautifully written book...
The characters are quite simply brilliant.' --Vanity Case Books'An extraordinary story...A born storyteller with a gift for characterisation, she writes with warmth, lovely earthy detail and a pathos which keeps a lump lodged in the throat...echoes of Victoria Wood.' --The Daily Mail'a brave, bold, warm, rich, amusing, engaging novel' --Hello!
MagazinePhilippa Smith is in her forties and has a beautiful newborn baby girl.
She also has no husband, and nowhere to turn. So she turns to the only place she knows: the beginning.Retracing her life, she confronts the daily obstacles that shaped her very existence.
From the tragic events of her childhood abandonment, to the astonishing accomplishments of those close to her, Philippa learns of the sacrifices others chose to make, and the outcome of buried secrets.Philippa discovers a celebration of life, love, and the Golden era of television.
A reflection of everyday people, in not so everyday situations.
Information
Format: Paperback
Pages: 322 pages
Publisher: Legend Press Ltd
Publication Date: 30/07/2011
ISBN: 9781908248015
Free Home Delivery
on all orders
Pick up orders
from local bookshops
Reviews
Showing 1 - 5 of 7 reviews.
Previous | Next
Review by nicx27
16/06/2015
This is a very accomplished first novel from Sophie Duffy. It is narrated by Philippa Smith, 40 years old and just given birth, and she tells the story of her life from the very beginning.What I particularly liked about the book were the social references. Some of the major events of the past 40 years are in there, together with references to styles, music and TV programmes from the different eras (such as The Generation Game!).Philippa is a likeable character. She's down to earth and aware of her own failings. From a difficult start in life, and quite a roller-coaster existence, the book leaves her in a good place, and I felt the end brought her full circle. I also loved some of the other characters, such as Wink and Mr Bob Sugar. This is very much a slice of life story. No plot as such, just the story of an interesting life with many twists and turns. Something that could have possibly not have been all that stimulating a read has been made into a great read because of the quality of the writing, and the well-rounded characterisations.I really enjoyed this book and look forward to seeing what Sophie Duffy comes up with next.
Review by hashford
16/06/2015
This book chronicles the life, and loves, of Philippa Smith, from her birth in 1965 to the birth of her daughter in 2006.We meet Philippa's first soul mate Lucus (at primary school), share her teenage crushes and fumblings, follow her to university, share in her hopes as she sets off to live and work in London … and sympathise when at the age of 40 she wonders how she could possibly have arrived at that age with so little to show for it!This book provided me with a very enjoyable meander down memory lane. If, like me, you were born just after the middle of the last century, then you will probably enjoy this tale with its references to TV game shows and major news events of the 70's, 80's and 90's. Though I do wonder what younger readers will make of all the Maggie Thatcher and Princess Di references!In summary, enjoyable, lightweight fun!
Review by AndrewBlackman
16/06/2015
An interesting premise: the book starts with a woman in hospital talking to her newborn baby girl. She starts to tell the story of her life, beginning with her own birth in St Thomas's Hospital in 1965 and going right up to the present day."I'll tell you my story. Our story. Because there's nothing worse than wondering. Knowing is always better."It works well to begin with the end, and to return to it regularly through the telling of everything that led up to that point. It builds anticipation and has us wondering how Philippa ends up where she is, who the baby's father is, how Philippa's life gets to that place.The early chapters are told very cleverly, using an adult's voice but a child's sensibility. Even Philippa's experiences as a baby and toddler are covered, which I think is a difficult thing to do well, but it really worked here. As we move through Philippa's childhood, adolescence and finally adulthood, the central interest is from the characters such as her distant, aloof mother and her adoptive father Bob.The story speeds up quite a bit when Philippa is an adult. I suppose that reflects our way of remembering our lives – early childhood experiences can seem so visceral, whereas later events often merge together. As a child, I remember the summer holidays seeming to last forever, whereas in adulthood I am often shocked at how fast the years go by (I'm still struggling to accept that it really is such a futuristic-sounding year as 2011). For me, the effect in this book was that the childhood years made a stronger impression upon me, whereas the years from 20 to 40 moved too fast for me to get much sense of the characters. I have a much clearer impression of the old woman Wink, for example, than of Philippa's husband Adrian.There are a couple of big revelations at the end, one concerning Philippa's mother and one about her love life. I won't give away the details, of course, but I'll just say that I found the one about the mother very satisfying – completely unexpected but completely believable, and answering a lot of questions from the earlier part of the book. The romantic one I was less convinced by, but maybe that's because, as I said, I wasn't so wrapped up in the adult part of Philippa's life. The book for me was about Philippa's odd relationship with her mother, and that central theme I thought was beautifully explored and very pleasingly concluded.
Review by VanessaCW
16/06/2015
The story begins in a hospital where 40 year old Philippa Smith has just given birth to a daughter. As she recovers, Philippa reminisces over her past life starting with her childhood in the 1960s, her teenage years in the 1970s and 80s, through the 1990s and then onto her current situation in 2006. Along the way this touches on television programmes such as The Generation Game and Dallas and also historical events such as Charles and Diana's wedding and Diana's tragic death. Well, didn't Sophie Duffy do well! I thought this was an excellent book, a real trip down memory lane. I found I could really relate to this tale - it was an entertaining, amusing, at times moving and nostalgic read. There was a great cast of characters, including Wink, Captain the parrot and Bob Sugar (a marvellous name for a newsagent, I thought!). I liked the style of writing as it flowed easily and kept my interest throughout - definitely a page turner for me. So, to coin a couple of phrases, it was nice to read it, to read it, nice! And I will not be shutting the door on any future work by this author, in fact I am eagerly looking forward to Sophie Duffy's next book.
Review by katsmiao
10/11/2015
The book grabs you and doesn't let you go until the last page.<br/><br/>This story of family has elements of passion, disfunction, generational conflict, parenting and well...real life.<br/><br/>It's a beautiful story, very real, and also with a very surprising end.<br/><br/>
Also by Sophie Duffy