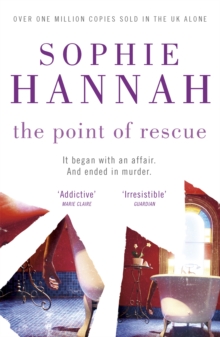 The Point of Rescue : Filmed as Case Sensitive for ITV1 Culver Valley Crime Book 3
Paperback
Description
Agatha Christie fans will love Queen of Crime Sophie Hannah's third stunning psychological suspense novel.
Also perfect for fans of Clare Mackintosh and Paula Hawkins.'Addictive' Marie Claire'Irresistible' GuardianIt began with an affair. And ended in murder.Sally is watching the news with her husband when she hears a name she ought not to recognise: Mark Bretherick.
Last year, a work trip Sally had planned was cancelled at the last minute.
Desperate for a break from her busy life juggling work and a young family, Sally didn't tell her husband that the trip had fallen through.
Instead, she booked a week off work and treated herself to a secret holiday.
All she wanted was a bit of peace - some time to herself - but it didn't work out that way. Because Sally met a man. Mark Bretherick. All the details are the same: where he lives, his job, his wife Geraldine and daughter Lucy.
Except that the man on the news is a man Sally has never seen before. And Geraldine and Lucy Bretherick are both dead ...
Information
Format: Paperback
Pages: 464 pages, n/a
Publisher: Hodder & Stoughton General Division
Publication Date: 01/07/2008
ISBN: 9780340933121
Free Home Delivery
on all orders
Pick up orders
from local bookshops
Reviews
Showing 1 - 5 of 6 reviews.
Previous | Next
Review by gaskella
16/06/2015
Sally and Nick have two young children and they both work hard. The year before, Sally was feeling the strain of juggling motherhood and her career, all the multi-tasking; she was desperate for a break from it all. When a business trip fell through, she didn't tell her husband. Instead she went off anyway to a hotel, looking forward to a week of spas and sleep. In the bar, she met a man - a considerate one, a man who seemed to understand her needs, and they had a week long daytime affair. Revived, she returned to work, but life carries on and she still gets stressed …"There's probably nothing important that I've forgotten, but it would be nice to be certain, as I always used to be. Now that I have two small children, my work has an added resonance: every time I talk or write about Venice's lagoon losing dangerous amounts of the sediment it needs to keep it healthy, I find myself identifying with the damn thing. Two strong currents called Jake and Zoe, aged four and two, are sluicing important things from my brain that I will never be able to retrieve, and replacing them with thoughts about Barbie and Calpol. Perhaps I should write a paper, complete with scientific diagrams, arguing that my mind has silted up and needs dredging, and send it to Nick, who has a talent for forgetting he has a home life while he is at work. He is always advising me to follow his example."At home the news is full of a gruesome double death – presumed suicide of a mother and daughter. Their names are familiar – they're the family of the man she had an affair with – but the man on the TV is not Mark Bretherick!This is the setup for Sophie Hannah's third novel, another dark and devilishly ingenious psychological thriller. I'm not going to talk about the main plot any more, it's complicated and I don't want to give any spoilers. Suffice to say, it's complicated and chilling, and mothers and fathers reading it will get little twinges of guilt when they recognise situations within in which they could have been better parents themselves at some time. Toiling away in the background are the Spilling constabulary – they are the constant in Hannah's novels. Back again are detectives Charlie and Simon, who have a long-running on-off relationship, which is complicated by her being a sergeant and him just a constable. Although the crime is the star, they provide a satisfying and grounding backdrop to the main event.I like to read novels with interlinking story arcs in order, and Sophie's third was the best yet for me, totally unputdownable as usual! I'm looking forward to great anticipation to her next books now.(8.5/10) I bought this book.
Review by Sukisue7
16/06/2015
A fast-paced, and really well written, intelligent thriller. Keeps you guessing right till the end. Nothing is what it seems! I'm usually pretty spot on with plot twists, but this one had me stumped a few times.I found the sub-plot between Simon and Charlie a tad irrelevant. I understand they are recurring characters in Hannah's books, so I can see how the continuation of their relationship might be of interest to long-time fans of hers, but for me, a first time reader of her work, they didn't appeal to me as characters. I found their awkward relationship detracted from the intensity of the rest of the plot.
Review by tillymint100
16/06/2015
A good read but I don't think it was on a par wither her first two books
Review by Mumineurope
16/06/2015
Psychological thriller. Sarah, Mark, Lucy and Geraldine
Review by RidgewayGirl
16/06/2015
Sophie Hannah writes a mystery series featuring two very messed up detectives. Charlie is prone to shooting her mouth off and behaving impulsively while Simon is so repressed and angry he can barely speak. Strangely, these two work well together, although their relationship is a bit volatile. In this third installment, they aren't even working together, Charlie having transferred to another department. A woman and her child have been found dead by the husband. It appears to be a murder-suicide, but questions remain. Well, while the others are eager to wrap things up, Simon has doubts. Meanwhile, another woman has had an argument with her babysitter, culminating when someone pushes her into the path of an oncoming bus. She manages to get away with only a few scrapes, but she's shaken by the encounter. She's further upset when she sees on the news the story of the murder-suicide and recognizes the name of the members of the family, but the grieving father is not the man she knew by that name. Sally Thorning is works full time and has two very small children. She's tired all the time and a bit cranky with it. She's determined to find out what's going on, but she can't tell anyone. The man claiming to be Mark Breckenridge is not the man she knew by that name and with whom she had a brief fling not that long ago. Hannah doesn't fetishize motherhood. Her young mothers are cranky and impatient and dream of a quiet night alone. She writes somewhat like Ruth Rendell, with that dark edge, although Rendell's cops were never quite as messed up as any of the detectives here.
Also in the Culver Valley Crime series | View all