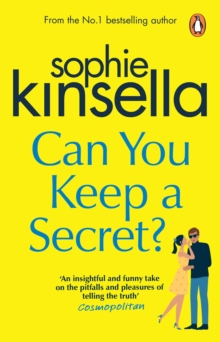 Can You Keep a Secret?
Paperback
Description
Nervous flyer Emma is sitting on a turbulent plane.
She really thinks that this could be her last moment.
So, naturally enough, she starts telling the man sitting next to her - quite a dishy American, but she's too frightened to notice - all her secrets.
How she scans the backs of intellectual books and pretends she's read them.
How she's not sure if she has a G-spot, and whether her boyfriend could find it anyway.
How she feels like a fraud at work - everyone uses the word 'operational' all the time but she hasn't a clue what it means.
How she once threw a troublesome client file in the bin.
If ever there was a bare soul, it's hers. She survives the flight, of course, and the next morning the famous founding boss of the whole mega corporation she works for is coming for a look at the UK branch.
As he walks around, Emma looks up and realises... It's the man from the plane. What will he do with her secrets? He knows them all - but she doesn't know a single one of his. Or... does she?Everyone loves Sophie Kinsella:"I almost cried with laughter" Daily Mail"Hilarious . . . you'll laugh and gasp on every page" Jenny Colgan"Properly mood-altering . . . funny, fast and farcical. I loved it" Jojo Moyes"A superb tale. Five stars!" Heat
Information
Format: Paperback
Pages: 368 pages
Publisher: Transworld Publishers Ltd
Publication Date: 17/03/2003
ISBN: 9780552771108
Free Home Delivery
on all orders
Pick up orders
from local bookshops
Reviews
Showing 1 - 3 of 3 reviews.
Review by kikianika
16/06/2015
I loved this one. I think the reason why I keep giving the Shopaholic series another try is because I do love Sophie's style, it's just that the subject matter isn't for me. Having said that, I thoroughly enjoyed 'Can You Keep A Secret'. It wasn't too over the top, and the heroine wasn't out there. Or at least I didn't think she was. I felt teh ending was a bit too rushed and glossed-over, but apart from that, an extremely nice read.
Review by jacketscoversread
16/06/2015
I love Sophie Kinsella's books, for the most part, so it should come as no surprise that I would pick up Can You Keep A Secret?. I purchased this book a couple of years ago when I was in Paris because I wasn't adjusted to the time change and needed something to do in the wee hours of the night.Can You Keep A Secret? was a fun, enjoyable book and a must-read for Sophie Kinsella fans. Kinsella writes the sort of chick lit it's hard to find flaws with, except in the case of Remember Me?. There's a little mystery around the man on the plane and his hesitancy to open up to Emma, which made it all the more interesting. The heroines themselves aren't perfect, which makes them more endearing. This book made me laugh out loud, wipe a few tears from my eyes, and get angry. There were a few times I caught myself reading faster and faster so I could find out what was going to happen.In the case of Can You Keep a Secret?, I'd definitely recommend it for a night in when you're in the mood for a laugh.And, apparently, the book is being turned into a movie staring Kate Hudson.
Review by AnneBrooke
16/06/2015
I absolutely loved this story of a woman who unexpectedly spills all her closest secrets to a man on a plane who then turns out to be the new uber-boss - but to tell the truth you can't really go wrong with a Kinsella, can you?It's an utterly charming page-turner, and it was wonderful to see the main character blossom and grow through the quirky challenges she has to face. A delightful and very amusing page-turner all round.