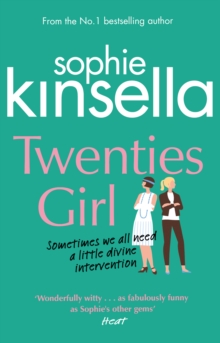 Description
Lara has always had an overactive imagination. Now she wonders if she is losing her mind. Normal twenty-something girls just don't get visited by ghosts!
But inexplicably, the spirit of Lara's great aunt Sadie - in the form of a bold, demanding Charleston-dancing girl - has appeared to make one last request: Lara must track down a missing necklace Sadie simply can't rest without. Lara's got enough problems of her own. Her start-up company is floundering, her best friend and business partner has run off to Goa, and she's just been dumped by the love of her life. But as Lara spends time with Sadie, life becomes more glamorous and their treasure hunt turns into something intriguing and romantic.
Could Sadie's ghost be the answer to Lara's problems and can two girls from different times end up learning something special from each other?Everybody loves Sophie Kinsella:"I almost cried with laughter" Daily Mail"Hilarious . . . you'll laugh and gasp on every page" Jenny Colgan"Properly mood-altering . . . funny, fast and farcical. I loved it" Jojo Moyes"A superb tale. Five stars!" Heat
Information
Format: Paperback
Pages: 480 pages
Publisher: Transworld Publishers Ltd
Publication Date: 01/01/2010
ISBN: 9780552774369
Other Formats
EPUB from £4.99
CD-Audio from £12.65
Free Home Delivery
on all orders
Pick up orders
from local bookshops
Reviews
Showing 1 - 4 of 4 reviews.
Review by faith76
16/06/2015
Overall I enjoyed this book and would recommend to any chick lit fan. I found I was chuckling in parts but also found it quite sad as well. It made me think about life and how it unfolds and the path each of us travels. I found the end of the book dragged a bit for me but I guess it needed all the loose ends tying up but may be it could have been a shorter end.I now have a thing for vintage fashion and keep spotting twenties themed items in the shops. Lord help me he he x
Review by Marlene-NL
16/06/2015
What a fun book. I do not easily laugh out loud while reading so I remembered the first time I read an English book and I could not stop laughing. That was Can you keep a Secret also from this writer. When i started to read and I realised it was about a ghost I worried I would not like it. thought it was a mystery book or something, but I was so wrong. It was so much fun and such a nice idea. Maybe there have been tons of books like this and I don't know cause i do not read romantic mysteries, but I loved this idea. Meeting a ghost from the twenties and doing there bidding. I never could finish Shopaholic because the main character kept on making the same mistakes but this was so different. thanks for all the laughing Mrs Kinsella.
Review by Versha.Bharat
16/06/2015
"I'm allergic to family occasions. Sometimes I think we'd do better as dandelion seeds-no family, no history, just floating off into the world, each on our own piece of fluff."<br/><br/>This was 'the-line' that caught my attention that I had to grab this book...<br/><br/>The thing I like about Sophie Kinsella's books are that ; they are 100% refreshing 'throughout'. If you want to read a book purely for entertainment and escape from this world then you got go for this book blindly (or any SK's book for that matter). Lara the protagonist of this story is just a girl next door dealing with day to day problem in her own way that you can connect to her very easily that's what made me want to know more about her. So I totally enjoyed it!!<br/>
Review by tigerbuns
16/06/2015
First off, my rating of four stars is purely genre-related. I wouldn't set the book on my favourites-shelf, nor would I recommend it to friends as a first choice - I recommend other genres, usually, books that impress me, books I got totally absorbed in and close with a sigh of satisfaction and a feeling of admiration towards the skills of the author. This is not one of those books, but it was fun to read. And, by the way, I don't mean to diss the author in any way, as I'm sure that's what she writes her books for. Kinsella has a knack of writing a mixture of comedy and romance that is just right for couch/chocolate afternoons, and I ploughed through the book in two sittings.<br/><br/>The first chapters were a bit of a test of patience, containing everything what stops me from marathoning her books (I always need a break after reading one). Her heroines are always, always messing things up in a big way, acting stupid and simpleminded for the sole reason of plot development and getting into one cringeworthy situation after the other, continually making things worse, and this one is no exception. Reading the first chapters of any of her books is always a bit of an ordeal for me. It's such an overload of embarrassment, and you see the next disaster coming pages before it happens, so the willing suspension of disbelief is forced to hop along one very, very thin line, on one leg. (Why did I read the book, then? Oh, I was in the mood for it. But you do have to be in the right mood - forgiving, willing to accept what the author presents, and prepared to not dwell on things too much - otherwise the book will only annoy you.)<br/><br/>Still, I felt that this time things got bearable fairly early on, and I was able to enjoy the sometimes silly plot without getting too exasperated. The story got into swing, the narrator actually got some character development, and the rest of the book was really fun to read. There were some convoluted situations and constructed-seeming conversations and reactions of the characters, but there were quite a few situations and conversations that had me laugh out loud, so it was pretty balanced. The love interest was a typical Kinsella-prince in a way, but he was likeable and had character. The focus was both on the girls' friendship and on the romance, which I liked. The story was pretty gripping in its own way, and sort of rewarding, if you don't expect too much. There aren't any insights or revelations to be had from this book, there's not much to be learned, and nothing to expand your mind. The plot elements and devices are far-fetched and there's always a hint of fairy tale in the way the problems get solved, so it's more like a romantic comedy movie than like real life - but who's looking for real life in chicklit anyway? So if you are willing to read something undemanding just for the sake of girl's heart-entertainment (or the sake of comfort reading), with a bit of romance and a lighthearted story, try it out.