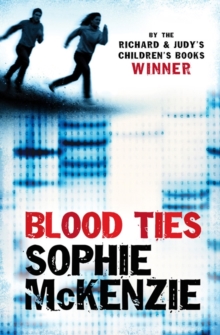 Description
When Theo discovers the father he thought died when he was a baby is still alive, he's determined to find him.
The clues lead him to lonely Rachel, who has problems of her own, including parents who compare her unfavourably to her long-dead sister.
But when Rachel and Theo are attacked by men from RAGE - the Righteous Army against Genetic Engineering - they are rescued by strangers and taken to meet a mysterious figure who leads them to make startling discoveries about their identities, which will affect their past, present, and future in dramatic and life-altering ways...
Information
Format: Paperback
Pages: 448 pages
Publisher: Simon & Schuster Ltd
Publication Date: 07/07/2008
Category: General
ISBN: 9781847382757
Other Formats
Paperback from £6.89
EPUB from £4.99
Free Home Delivery
on all orders
Pick up orders
from local bookshops
Reviews
Showing 1 - 3 of 3 reviews.
Review by E.R.G.
16/06/2015
All of the twists and turns in the story kept me reading late into the night. The cloning side of the story was very good and it looked at loads of different views on cloning but the romance between Theo and Rachel was really annoying after the first few times they changed their minds. All of the characters were interesting and you could totally empathize with them and, of course, there was a really good bad guy to hate all the way through.
Review by brokenangelkisses
16/06/2015
From the opening sentences this is a very dramatic novel:'I could see him waiting for me outside the steel school gates.'Roy.' Theo Glassman has a bodyguard – though he has no idea why – who he constantly tries to outwit in order to live a 'normal' life. Operation "Liberate Theo" dominates chapter one, then, just as the reader gets involved in the story, chapter two opens on Rachel, adding up the fat, stupidity and ugliness related comments she has endured during the day. Rachel's life, though clearly sad, seems uninteresting in comparison to Theo's until she receives an unexpected text message that sets her heart thumping and closes the chapter, allowing us to get back to Theo…The switches between the two stories work well, especially when their lives begin to overlap, and the first person narratives allow McKenzie to create two believable but distinct characters. Theo is arrogant, impassioned and determined; Rachel is shy, bullied at school and undervalued at home. Although they might seem very disparate characters, they both have pain in common: Theo longs for the father he believes is dead; Rachel wishes she weren't overshadowed by her deceased sister. Very early on, the characters make some shocking discoveries about their fathers' pasts, but this is by no means the full story. The pair team up and begin to make even more worrying discoveries as they explore the connections between their families. After they are attacked by a militant group against genetic engineering (RAGE), the story kicks up another gear as they race for their lives, trying to find the truth. Early on, the reader guesses at least part of the truth, but the story is so well told that this never becomes a problem. Besides, guessing that your whole life has different roots than you've always known is not something that most people are likely to realise until they are shown the truth. (This is a bit like 'The Matrix'!)As the plot develops, the characters do, too. Rachel discovers her true strengths, gaining confidence along the way. Theo, by contrast, discovers the potential dangers of his personality and risks becoming someone he does not want to be. Their relationship also evolves, gradually, in time-honoured boy-meets-girl-and-they-team-up-to-fight-against-the-world-and-fall-in-love fashion. Once again, although this is highly predictable, it is enjoyable to read because the characters are believable and we are sympathetic towards their plight. The agony of misreading each others' feelings is emphasised by the dual narrative structure and the reader really wants them to be happy. There are several villains and heroes along the way, which could be seen as a slight criticism of McKenzie's writing. Rachel and Theo's parents seem reasonable enough, although they are not really in the novel enough to allow us to assess them objectively, but the other adults they come into contact with are either angelic (but in a bad position) or almost demonic in their rage and actions. Despite the simple caricatures of 'good-vs-evil', McKenzie does put across a believable moral message by ensuring that the evil characters are militants of some description: the good characters suggest a middle path is necessary. This links in to many modern debates, particularly in the evolving field of genetic research, and is a valuable message to all readers, but not one that is force fed to us.After setting an intense pace, the action seems to slow slightly when Rachel and Theo reach a key location, but this is really only slow in comparison to the rest of the novel, and is a good opportunity for reflection. The ending leaves open the possibility of a sequel without actively setting one up, and creates a certain sense of closure. Overall, this is an exciting, fast-paced and enjoyable read that should provoke some interesting debate.
Review by Kiera-C
16/06/2015
I love this book! I mean as a teenager i'm into all the romance and i just love how it kept switching from Rachel to Theo so that you were not just reading one persons thoughts. I am a big fan of science and the whole cloning idea was amazing and Sophie McKeenzie sure made it sound scienntific in certain parts of the book. Overall i say WELL DONE!