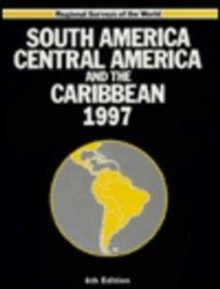 South America 1997
Hardback
Description
This survey of South America, Central America and the Caribbean provides all the latest facts and figures on this area of the world.
It is a source of reference for this diverse region which covers one-sixth of the world's surface and is home to well over 430 million people.
This edition has been revised and updated to reflect the latest political, economic and social changes in this vast part of the world. 25 specialists have contributes to this edition, providing analystical commentary on a varied and topical range of issues.
Part one covers the background to the region, with essays which analyze topics of contemporary interest.
The essays for this edition include "Social Change in the Caribbean" by Canute James, "Latin American and Caribbean Economies: An Introduction" by David Hojman, "Democratization in Latin America" by P.A.R Calvert, "Integration in Latin America" by P.A.R Calvert, "Sovereignty, Dependency and Social Change in the Caribbean" by Colin Clarke, "The Church and Politics in Latin America" by Kenneth N. Medhurst, "Petroleum and Other Minerals in Latin America" by George Philip, "The Politics of Cocaine" by Philip O'Brien and "Ecology and Land Use in Amazonian Forests" by Michael J.
Eden. Part two provides country surveys, separate chpaters for all the countries of the region.
Major countries are covered by: a facts-in-brief section; detailed analysis on the history and the economy,; a full statistical survey; and a directory of names, addresses and other information covering the constitution, government, political organizations, diplomatic representation, judicial system, religion, the media, finance, trade and industry, transport, tourism, energy, defence and education.
A bibliograpny for each major country is included. Smaller countries are covered in summary accounts giving facts and figures on political, economic and commercial topics in a see-at-a-glance format. Part three presents regional organizations, with comprehensive information on the major organizations active within the region, including: the Economic Commission for Latin America and the Caribbean-ECLAC; the Caribbean Community and Common Market-CARICOM; Food and Agriculture Organization-FAO; Inter-American Development Bank-IDB; and International Finance Corporation-IFC.
Each organization's aims, functions and publications are given, together with a list of key personnel.
Also included in this section are major commodities of Latin America, research institutes concerned with the region and a select bibliography (periodicals). The 48 major countries and territories include: Anguilla; Antigua and Barbuda; Argentina; the Bahamas; Barbados; Belize; Bermuda; Bolivia; Brazil; British Virgin Islands; Cayman Islands; Chile; Columbia; Costa Rica; Cuba; Dominica; Dominican Republic; Ecuador; El Salvador; Falkland Islands; French Guiana; Grenada; Guadeloupe; Guatemala; Guyana; Haiti; Honduras; Jamaica; Martinique; Mexico; Montserrat; Netherlands Dependencies - Aruba and the Netherlands Antilles; Nicaragua; Panama; Paraguay; Peru; Puerto Rico; Saint Christopher and Nevis; Saint Lucia; Saint Vincent and the Grenadines; Suriname; Trinidad and Tobago; Turks and Caicos Islands; US Virgin Islands; Uruguay; and Venezuela.
Information
Format: Hardback
Pages: 750 pages, bibliography, index
Publisher: Taylor & Francis Ltd
Publication Date: 31/12/1996
Category: Politics & government
ISBN: 9781857430264
Other Formats
PDF from £56.93
Paperback / softback from £9.55
Hardback from £16.15
Free Home Delivery
on all orders
Pick up orders
from local bookshops