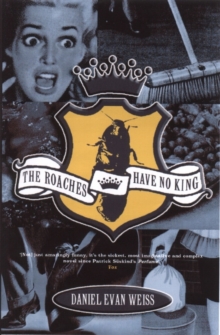 The Roaches Have No King
Paperback
Description
When Ira Fishblatt's girlfriend, Ruth Grubstein, moves into his appartment, he cleans up his act and his kitchen much to the repulsion of the hoards of cockroaches who also inhabit his flat.
This grubby army who, up until now, had happily existed on the food debris littering his flat, now face a harsh future: eviction or death from starvation. Driven into a frenzy by their dark fate, a leader cockroach, Numbers, devises a diabolical plan which will forever rid them of Ruth and her damnable tidiness.
Enlisting the unwitting help of Rufus, the local cocaine dealer, Elizabeth and his hot-blooded ex-girlfriend, the Gypsy, they act out a masterplan to save their home? and their lives.
Information
Format: Paperback
Pages: 256 pages
Publisher: Profile Books Ltd
Publication Date: 23/08/2001
ISBN: 9781852427467
Free Home Delivery
on all orders
Pick up orders
from local bookshops
Reviews
Showing 1 - 2 of 2 reviews.
Review by offsideher
16/06/2015
This book gets a star on title alone, that's before you even turn the first page and meet our little hero Numbers. I've given serious thought to naming my first born Numbers, afterall people name their kids after characters in books all the time -- my only problem is explaining that I named my kid after a roach. hmmm, yeah that would be a problem. Honestly, Numbers is a roach and just by definition, you come to understand that he is seriously flawed and therein is the analogy -- man is like a roach. The journey is thoroughly enjoyable, with a lot of questionable sex scenes that you really have to read to believe. The only exception is the character Rufus, a black pimp/drug dealer type -- that comes off stiff and unrealistic... in the end, he always ends up sounding like some Jewish guy doing a parody of some mid-west white guy, doing a parody of scenes that were cut from Boyz in the Hood. In the end, little Numbers goes all around the world it seems looking for a solution to his problem, to only end up right back where he started -- a day late and a dollar short, he discovers that he had lost track of the simplicity of life -- and had over complicated the matter... and what happens when screw stuff up? We get the shits and try to find someone to blame. Happens to us all...Anyway, Weiss wrote a pretty oddly entertaining book, I never knew I could connect with a roach on such a personal level...
Review by Moriquen
16/06/2015
It is humourous and quite dark at the same time. This book is not for the faint-hearted. ;) The graphic description of humans going at their daily and little observed bussiness is almost revolting but also funny and quite accurate. The view of the world (or appartment 3B) through a cockroach's eye(s) is strange. The way in which Numbers tries to influence the lives of the humans around him is heroic and suicidal at the same time. I even liked the end, although it took me completely by surprise. (But come to think of it, it was bound to happen some day!)