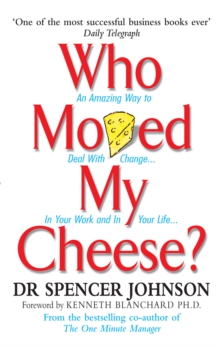 Who Moved My Cheese
Hardback
Description
Who Moved My Cheese? is a simple parable that reveals profound truths. It is the amusing and enlightening story of four characters who live in a maze and look for cheese to nourish them and make them happy.
Cheese is a metaphor for what you want to have in life, for example a good job, a loving relationship, money or possessions, health or spiritual peace of mind.
The maze is where you look for what you want, perhaps the organisation you work in, or the family or community you live in.
The problem is that the cheese keeps moving. In the story, the characters are faced with unexpected change in their search for the cheese.
One of them eventually deals with change successfully and writes what he has learned on the maze walls for you to discover.
You'll learn how to anticipate, adapt to and enjoy change and be ready to change quickly whenever you need to.
Discover the secret of the writing on the wall for yourself and enjoy less stress and more success in your work and life.
Written for all ages, this story takes less than an hour to read, but its unique insights will last a lifetime.
Free Home Delivery
on all orders
Pick up orders
from local bookshops
Reviews
Showing 1 - 5 of 14 reviews.
Previous | Next
Review by ashishg
16/06/2015
Simple tale advocating courage to face, and the preparation for, the changes in life.
Review by karriethelibrarian
16/06/2015
The mouse parable gets a little annoying after awhile, but the message is a good one: be willing to adapt or you'll become extinct just like the dinosaurs. People who refuse to learn how to work on computers should read this book.
Review by pictou
16/06/2015
It's cheese. Every wants cheese, be prepared to look for better cheese. The end. There's a good 1000 word essay hidden in this book somewhere.
Review by Neale
16/06/2015
This little story basic premise is - Change is inevitable. Live with it, Use it + don't push against it. Nothing too earth shattering.
Review by Alina100
16/06/2015
This is a must read for everyone. Change is a constant phenomenon in life and that is why this wonderful parable how to deal with it can be of great help to people. It describes change in one's work and life, and four typical reactions to said change with two mice Sniff and Scurry, two "little people" Ham and Haw, and their hunts for their cheese which stands for the important things in their lives. Not only is this little story motivational, but a lot of fun, too. A lot of readers have already improved their lives with this book, so why not you?