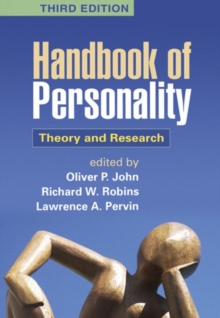 Handbook of Personality : Theory and Research, Third Edition
Hardback
Description
Long the reference of choice for researchers and students of personality, this authoritative Handbook is now in a substantially revised and expanded third edition.
Following an introductory section that describes the most important theoretical approaches in personality, the volume is now organized around five broad content areas: biological bases; development; self and social processes; cognitive and motivational processes; and emotion, adjustment, and health.
Within each area, new and updated chapters review what is known, present innovative research designs and findings, and discuss key questions and controversies in the field.
New to This Edition:expanded and restructured to reflect significant advances in the fieldseventeen of thirty two chapters are entirely newforemost authorities are joined by the next generation of up-and-coming researchersnew topics: aging, relationships and attachment, personality in animals, spirituality, happiness, implicit motives, identity development, and more.