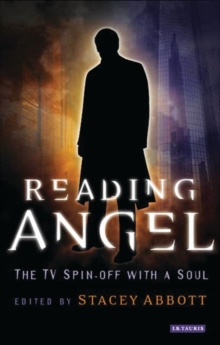 Reading Angel : The TV Spin-off with a Soul
Paperback
Description
In 1999 Angel's creator Joss Whedon moved the vampire with a soul from the successful series "Buffy the Vampire Slayer" to his very own spin-off series "Angel".
With a cast of characters as tormented by their pasts as is Angel himself, the spin-off has developed its own preoccupations, exploring a darker vision of alienation, atonement and the fight for redemption, with humour and a fine, noir style.
The series will complete its run in 2005 and this first discussion and celebration of Angel as a distinct entity explores the full five seasons, with a complete episode guide.
The cinematic aesthetics of Angel, its music, shifting portrayals of masculinity, the noir Los Angeles setting, impact of comedy, the superhero, horror, and the influence of corporate and global evil in the form of Wolfram & Hart are just a few of the subjects addressed in this tribute to Angel for its many fans who will be going into mourning in 2005.
Information
Format: Paperback
Pages: 256 pages
Publisher: I.B.Tauris & Co Ltd.
Publication Date: 27/05/2005
Category: Television
ISBN: 9781850438397
Free Home Delivery
on all orders
Pick up orders
from local bookshops
Reviews
Showing 1 - 1 of 1 reviews.
Review by xicanti
16/06/2015
A critical approach to the television series.I absolutely adore media criticism. I love seeing how others have approached films and television shows I've enjoyed, and I like delving beneath the surface of any creation see what makes it tick. Stacey Abbot and her contributing authors have done just that with this collection. They've put together a smart, detailed look at <i>Angel</i> that examines the show from a variety of different angles. The essays discuss topics such as the show's noir antecedants, the role of masculinity in <i>Angel</i>, and the cinematic conventions in play.For the most part, the collection is successful. It utilizes a scholarly approach, allowing the contributers to view the series from a variety of critical viewpoints. It was continually fascinating; however, I rarely found it engaging. I often felt that the dry, scholarly tone alienated me from both the essays and their material. This is understandable, to a certain extent; the contributers are trying to make <i>Angel</i> studies a valid field in its own right, and a serious approach is crucial to that. But really, where's the enjoyment of the show? Where's the spark that kept everyone watching, that inspired them to examine the series in such detail? Some of the essays have it; many don't. There's also a definite focus on the noir in <i>Angel</i>, often to the exclusion of other aspects of the show.Overall, though, I do recommend this. It was a good first foray into <i>Angel</i> studies, and it's got me eager to explore the field further.