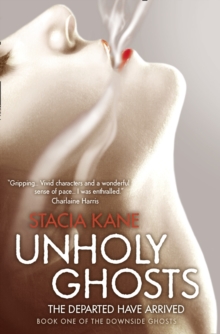 Description
The first book in a compelling new urban fantasy series, The Downside Ghosts.Murderous spirits and ruthless drug dealers combine to create serious problems for fiercely independent heroine, Chess, in these fast-paced, sexy and addictive novels.
If you liked the compelling characters in 50 Shades of Grey, you'll love the Downside Ghosts series.The world is not the way it was.
The dead have risen and constantly attack the living.
The powerful Church of Real Truth, in charge since the government fell, has sworn to reimburse citizens being harassed by the deceased.
Consequently, there are many false claims of hauntings from those hoping to profit.Enter Chess Putnam, a fully-tattooed witch and freewheeling Debunker and ghost hunter.
She's got a real talent for nailing the human liars or banishing the wicked dead.
But she's keeping a dark secret from the Church: a little drug problem that's landed her in hot and dangerous water.Chess owes a murderous drug lord named Bump a lot of money. And Bump wants immediate payback. All Chess has to do is dispatch a very nasty species of undead from an old airport.
But the job involves black magic, human sacrifice, a nefarious demonic creature, and crossing swords with enough wicked energy to wipe out a city of souls.
Toss in lust with a rival gang leader and a dangerous attraction to Bump's ruthless enforcer, and Chess begins to wonder if the rush is really worth it.
Hell, yeah.
Information
Format: Paperback
Pages: 352 pages
Publisher: HarperCollins Publishers
Publication Date: 27/05/2010
Category: Fantasy
ISBN: 9780007352814
Other Formats
EPUB from £2.99
eAudiobook MP3 from £17.60
Free Home Delivery
on all orders
Pick up orders
from local bookshops
Reviews
Showing 1 - 3 of 3 reviews.
Review by wyvernfriend
16/06/2015
It's a world like ours but it's subtly different. The dead appeared many years ago and attacked the living and now the Church of Real Truth are in power, they have the power to save people from these ghosts and they're willing to use it for a fee. However if you try to fake a haunting they will find that out too and you will pay.Chess Putnam is a ghost hunter, tattoed and a witch, with a talent for magic and she also has a drug problem. She owes a drug lord a lot of money and he wants her to pay him back by dealing with a nasty ghost at an old airport. This drags her into a world of black magic, conspiracy and a lot of malevolent energy and falling in lust with a rival gang leader.And somehow it didn't quite work for me, it wasn't bad but somehow I kept being jarred with the way the story went. A lot of the background wasn't clear enough for me and somehow some of the explinations were just a little too pat. Her relationships also just didn't seem to work well enough for me. It wasn't bad enough that I don't want to read the sequel or any other stories by this author but I'm just wasn't engaged enough or care enough about most of the characters.
Review by TheDivineOomba
16/06/2015
A lovely, dark tale in the entry of Urban Fantasy. In this book, we find a world where the dead have escaped from heaven and killed off 9/10ths of the population. Luckily, the Church comes to the rescue, but the price of being saved is to denounce your religion (because God Doesn't exist) and practice there own Non-God Version of belief.This is the world where Chess lives, an orphan educated by the Church because of her talents, but not before street life left its mark as a nasty drug habit. Chess is a debunker, where she either finds a real ghost haunting, or more often, a person faking a ghost for the church payout. When her current case starts showing ties to her dealer's ghost problem, she gets way in over head, juggling between her drug needs, her drug dealers blackmail, and the church.Things I liked about this book: Chess is a real person. She has a back story that makes sense, and her voice sounds real. The supporting characters have more character development than most and also feel real. Where the story falters a bit is the history of the church. Something feels very off with it. I'm not sure if this will be explored in future stories. Its a mystery, and a mystery that makes me question the whole world. Even with the world issue, I really enjoyed Chess. She has a reason to be all dark and angsty, but the author manages to stay on the line of interesting, but flawed character vs whiney "woe is me". Highly recommended.
Review by Cynical_Ames
16/06/2015
I'm giving up on this one. I wasn't offended by it as others have been, I just found it uninteresting and was struggling to read every page with enough concentration to take in the information. <br/><br/>Chess isn't a very sympathetic character as she's rather selfish and unconvincing as a survivor of an abusive childhood. She's a functional addict but the drugs cause her to make mistakes in what can be a very dangerous job. Her troubles are of her own making as others exploit her weakness for pills in order to satisfy their own needs. She's bothered by none of this. Me thinks she has a death wish. It all felt very blah, very monotone. More of the same. It seemed there wasn't anything to look forward to. 102/346 pages read.
Also in the Downside Ghosts series | View all