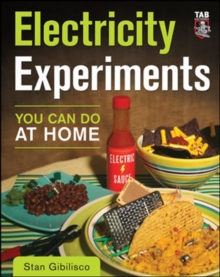 Electricity Experiments You Can Do At Home
Paperback / softback
Description
Amp up your understanding of electricity and magnetism with DOZENS OF DO-IT-YOURSELF EXPERIMENTSElectricity Experiments You Can Do At Home is a hands-on guide that helps you master the principles of electrical currents and magnetism.
Each of the book's three sections--direct current, alternating current, and magnetism--begins with step-by-step instructions for setting up your lab for the experiments that follow.
Using inexpensive, easy-to-find parts, the experiments progress from basic to more complex and will spark ideas and encourage inventiveness.
Expect unexpected results when you experiment with:Diode-based voltage reducerCompass-based galvanometerPhotovoltaic illuminometerUtility bulb saverRipple filterXener-diode voltage regulatorAC spectrum monitorAmpere's law with wire loopAC electromagnetHandheld wind turbineAnd dozens more projectsELECTRICITY EXPERIMENTS YOU CAN DO AT HOME helps you to:Solve circuit problems in electricityBuild practical and interesting electrical and magnetic devicesGet ideas for science-fair projectsPrepare for advanced courses in electricity and electronicsLearn the basics of laboratory practice
Information
Format: Paperback / softback
Pages: 352 pages
Publisher: McGraw-Hill Education - Europe
Publication Date: 01/06/2010
ISBN: 9780071621649
Free Home Delivery
on all orders
Pick up orders
from local bookshops