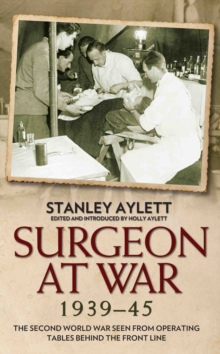 Surgeon at War 1935 - 45 : The Second World War Seen from Operating Tables Behind the Front Line
Hardback
Description
Stanley Aylett's remarkable account of six years' service as a front-line surgeon with the British Army is that rare thing: a complete narrative from the first week of the Second World War until months after the final capitulation of Nazi Germany. That war was the last Western conflict in which military surgeons performed operations immediately behind the front line, often in makeshift theatres set up in tents or abandoned, battle-scarred buildings.
This memoir records the resilience and resourcefulness of the medical teams, fighting to save each wounded soldier's life, and the advances in medicine such as penicillin and plastic surgery that transformed their experience. The author draws on his extensive diaries to describe the first advance into France at the start of the 'Phoney War' in 1939; the chaos of the retreat to Dunkirk and subsequent evacuation of British and French forces; the sea voyage round the Cape to join the Eighth Army in Egypt; leading a Field Service Medical Unit in the Western Desert; the Allied invasion of France following the D-Day landings; crossing the Rhine into Germany; and VE Day, which Lieutenant-Colonel Aylett spent amid the horror of the Sandbostel concentration camp in northern Germany. Alongside the challenge of serving the wounded and dying, Surgeon at War also reveals the passions of a young man - in search of lasting love, exasperated by the incompetence of his superiors, encountering different peoples and cultures, anxious that the narrow focus of battle surgery will not jeopardise his medical career when peace returns. Few war testimonies have the scope of this account.
Stanley Aylett signed up in the week war was declared, and survived to tell his story, edited here by his daughter with extensive use of his own photographs and letters home. It is a narrative of courage, duty and endurance amid the fog of war, but above all a tribute to the skill and humanity of those whose daily lives revealed mankind at both its best, and its worst.
Information
Format: Hardback
Pages: 288 pages
Publisher: John Blake Publishing Ltd
Publication Date: 05/03/2015
ISBN: 9781784181246
Free Home Delivery
on all orders
Pick up orders
from local bookshops