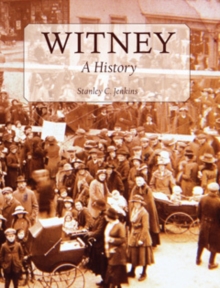 Witney : A History
Hardback
Description
Witney grew up as the result of deliberate planning on the part of successive Bishops of Winchester, a spacious, wedge-shaped market area being laid out parallel to the river Windrush.
The whole area was surrounded by a drainage ditch known as `Emma's Dyke', and some of the new burgage plots were artificially raised above water level.
By the end of the Middle Ages it had grown into a populous market town with a developing blanket industry.
The town suffered at the hands of marauding Royalists during the Civil War, the local population tending to be pro- Parliament, and when the more extreme Puritans excluded themselves from the Church of England at the Restoration, Witney became a centre of nonconformity, with strong Quaker, Baptist and Independent congregations.
John Wesley paid many visits to the town, and Methodism eventually became the dominant form of local dissent.
Meanwhile the blanket trade had gone from strength to strength, and by 1800 there were five textile mills in and around the town.
In 1858 the leading townsfolk joined forces with local landowners to build the Witney Railway from Yarnton, which enabled large quantities of cheap coal to be brought in.
Steam-powered mills followed, such as Bridge Street Mill in the mid-1860s, Witney Mill in 1888 and Mount Mill in 1901.
By 1914 there were six mills in operation, divided between four blanket making firms.
In 1933 the Yorkshire firm of James Walker & Son of Mirfield opened another mill at a time when the country was suffering from the effects of the Great Depression.
In 1951 Smiths Industries established a large factory on Witney Aerodrome, a First World War airfield used by De Havillands as a Civilian Repair Unit during World War Two, so the local economy was no longer dependent upon the woollen industry.
But the town remained famous as a centre of the blanket manufacturing industry until the closure of the last mill in 2002.
This fully illustrated narrative brings the fascinating history of Witney to life and will be enjoyed by all those keen to know this Cotswold town a little better.
Information
Format: Hardback
Pages: 128 pages
Publisher: The History Press Ltd
Publication Date: 20/05/2010
Category: Local history
ISBN: 9781860776205
Free Home Delivery
on all orders
Pick up orders
from local bookshops