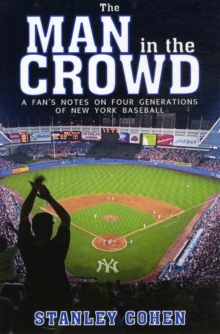 Man in the Crowd : A Fan's Notes on Four Generations of New York Baseball
Hardback
Description
"The Man in the Crowd" is a wonderfully evocative memoir of Stanley Cohen's lifelong fascination with and devotion to the New York Yankees.
But it is much more than that. It is also a nostalgic remembrance of decades past, and the way life was lived in simpler times.
For Cohen, baseball is the prism through which he views the events of the last seventy years. "The Man in the Crowd" chronicles America's changing mood and lifestyle from the years of World War II through the silent generation of the fifties, the revolutionary turmoil of the sixties through the social decay of the seventies, the excess of the eighties through the technological transformation of the nineties up through the sobering uncertainty of the post-9/11 present day.
Cohen uses baseball, and, specifically, the Yankees, as his instrument of recollection. The narrative spans four generations - those of father, author, son and grandson - and Cohen recounts through sparkling prose how, for his immigrant father, sports was a means of assimilation into life in the New World; the warmth of watching his son and, later, his grandson both fall heir to his devotion; and how the game of baseball has provided his life its truest sense of continuity.
From Joe DiMaggio to Derek Jeter, this Yankees fan has seen it all. And in "The Man in the Crowd", the author skillfully weaves the story of this remarkable team through the significant events that have marked not only his own life, but the lives of all Americans.
Information
Format: Hardback
Pages: 288 pages
Publisher: Skyhorse Publishing
Publication Date: 19/07/2012
Category: Baseball
ISBN: 9781616086916
Free Home Delivery
on all orders
Pick up orders
from local bookshops