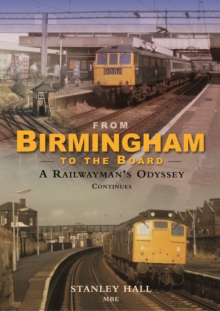 From Birmingham to the Board: A Railwayman's Odyssey Continues
Hardback
Description
Stanley Hall is one of Britain's foremost commentators on the subject of railway operation, signalling and safety.
In a railway career that spanned more than four decades, from the dark days of World War 2 through the era of almost incessant retrenchment in the 1960s and 1970s. through to the start of the new railway age in the early 1980s, he progressed from junior appointments in the West Riding of Yorkshire to senior management and, ultimately, to the position of Signalling and Safety Officer for the British Rail Board itself. Following on from A Railwayman's Odyssey, which was first published in 2012, From Birmingham to the Board: A Railwayman's Odyssey Continues takes the story of Stan Hall's railway career from his appointment as Divisional Operating Superintendent at Birmingham through to his final years with British Rail when he was based at 222 Marylebone Road with responsibility for signalling and safety across the entire BR network.Full of insights into how the railways operated in those years and the changes that were wrought both internally and by external forces, the book provides a graphic account of how the railway industry coped in an era when money was restricted and when the support of politicians could not be guaranteed. The start of the era covered saw the author move to Birmingham, where his responsibility covered a great swathe of the Midlands, from Shrewsbury in the west to Rugby in the east and from Oxford and Worcester in the south to Walsall in the north.
At the time, Birmingham was the hub of the railway network; it was once said that if New Street sneezed the rest of the network got a cold.
As Divisional Operating Superintendent, it was the author's responsibility to make sure that Birmingham didn't sneeze but, if it did, that the contagion didn't spread.
This role lasted until early 1977 when a final promotion took him to the Board; here the author's horizons expanded as his remit covered not only the whole of the BR network, from the far north of Scotland to Penzance, but also abroad through his role in the UIC and the IRSE.Fully illustrated throughout, the From Birmingham to the Board: A Railwayman's Odyssey Continues is a fascinating account of a railway industry in transition; it will be of interest to transport professionals and historians alike in providing a detailed account of British Rail operations during the 1970s and early 1980s.
Information
Format: Hardback
Publisher: Crecy Publishing
Publication Date: 21/05/2015
Category: Memoirs
ISBN: 9780711038219
Free Home Delivery
on all orders
Pick up orders
from local bookshops